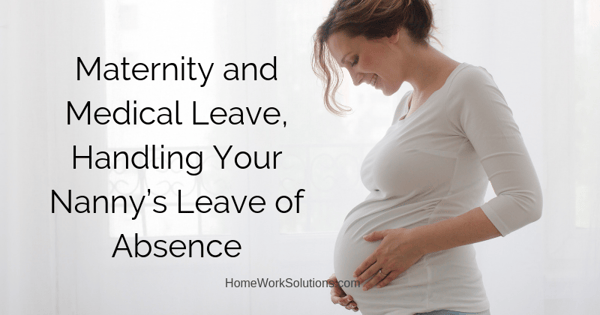 Once you find a wonderful nanny that works well with your family and that your kids love, it is easy to be protective of her and want her to be available all the time. But nannies have lives of their own and many of them want to have their own families. So, it's important to be prepared for that fact and plan accordingly when your nanny announces that she is pregnant and will want to take maternity leave.
In New York, the first phase of the state paid family leave law has been enacted and states that your domestic employees are entitled to eight weeks of paid leave at 50% of their salary. By 2021, the law will include a full 12 weeks of pay at two-thirds of the regular rate. New Jersey, California, and Rhode Island also offer some compensation for paid leave. If your state does not have a paid maternity leave law already put into practice, the federal family leave act (FMLA) will apply. This guarantees full time employees up to 12 workweeks of unpaid leave with no threat of losing their job.
New York is not an isolated case - paid family leave laws are being adopted by states and localities nationwide at a rapid rate. California, New Jersey, Rhode Island, New York, Washington and the District of Columbia have enacted programs, while another 21 states have proposals being considered by their legislators. Paid family leave is near and dear to Ivanka Trump - it is her signature policy issue.
So your nanny tells you that she is expecting a baby, or worse yet is battling disease that has a significant leave from work requirement such as cancer. Once your nanny asks for maternity or medical leave, start working together to make plans. Talk to her about when she plans on returning, and if she expects to be able to return to all of her duties, or if some will need to be amended.
Next, start looking for who will cover for your nanny while she is out. Conduct interviews well in advance and be sure to ask your current nanny to train the new temporary nanny on anything that is important to know in her absence. In addition, address with all parties involved about what flexibility there is in the work arrangement, and what the protocol will be if the nanny's return is delayed, or if the nanny cannot return to work at all. Consider the finances - can your nanny draw down her vacation time to help fund the leave? Will you provide economic support (assuming no state funding), and more importantly can you reasonably pay for a temporary replacement AND economically help your valued nanny?
Giving your nanny some time off to adjust to having a new baby is necessary and important and following the laws for maternity and medical leave in the United States is required. She is part of your family, but she is also your employee and should be treated with fairness.
Have you struggled with this issue with your household employee? How did you handle it?