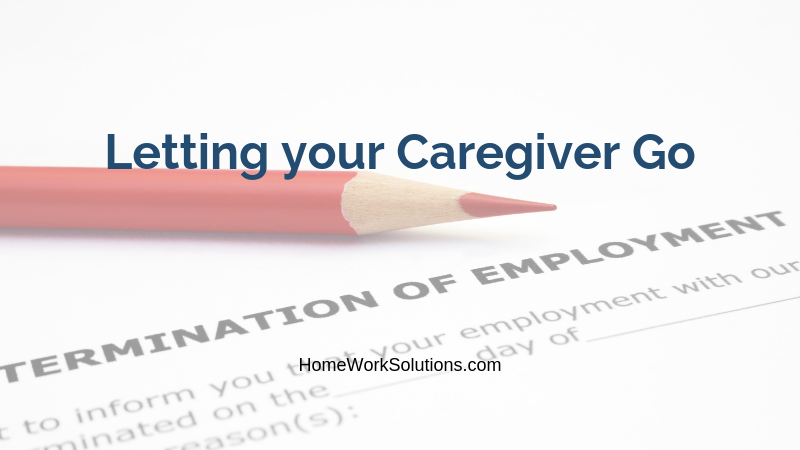 Hiring the right caregiver for your loved one is a personal, delicate process and even when you think you've found the right person, there are a lot of different reasons why it might not work out in the long run. Whether it's simply not the right match, rules have been violated, or schedules are not aligning properly to make the job work, making the decision to take action and fire a caregiver usually isn't an easy one. Here are some tips on letting your caregiver go.
Tip #1: Listen to your gut feeling
When it comes to your loved one, it is important to do what you can to find a caregiver that will love and care for them as you would. Look for early warning signs and if something in your gut tells you that something isn't working out with your caregiver, there is a good chance that you're right. Use your intuition and let it help guide your decision.
Tip #2: Have a face to face meeting
It is important to talk to your caregiver in person and let them know your decision. Be clear and diplomatic about the situation and be sure you concisely explain your reasons why you have decided to let them go. Try not to be critical and stick to the facts. Do follow the golden rule, and when there is simply a bad match involved and no wrongdoing on the caregiver's part, do be fair with notice or pay in lieu of notice. Clearly if there is malfeasance, you can terminate at will.
Tip #3: Take care of the details
Once you have given your caregiver notice or immediately terminated employment, you will need to discuss important details such as when they can expect their last paycheck. Be aware of your state's laws in this area! In addition, you will need to collect keys, access cards or other important family property provided to the caregiver. (TIP: Do have a written agreement for the return of family property in place!) Once you have everything back, be sure to change the locks or door code numbers and make sure passwords and other access to sensitive information is revoked.
Tip #4: Talk to your loved one
Transitions can sometimes be difficult, sad, or stressful for your loved one. So, if you must let go of a caregiver, talk to your loved one about it and be honest about why it needed to be done. Acknowledge any feelings that your loved one might be experiencing and talk positively about finding a new caregiver that will be a better fit.
Finding a caregiver that is loving and experienced is possible, and sometimes it takes some time to find the perfect match. Be patient – your loved one is worth it.