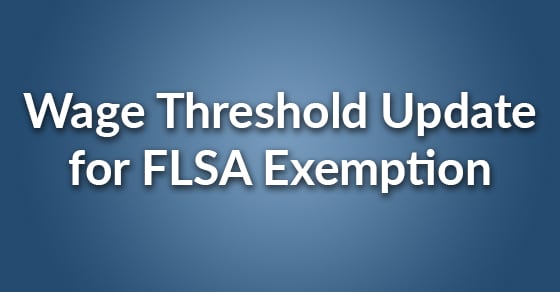 The U.S. Department of Labor has updated the salary threshold for executive, administrative, and professional employees. The threshold was last set in 2004 and this update takes into account inflation and wage growth since that time. There has also been an update to the total annual compensation level for "highly compensated employees."
These thresholds are the line at which Fair Labor Standards Act (FLSA) provisions are removed, turning an employee from non-exempt to exempt.
The new "standard salary level" for exempt executive, administrative, and professional employees is $684 per week, up from the previous amount of $455. This new weekly threshold, equivalent to $35,568 per year for a full-time employee, is estimated to allow 1.3 million workers to become eligible for overtime pay that were not previously. This change applies to regular salaried employees, hourly wage employees (like household employees) are still considered non-exempt regardless of the weekly earnings.
The new threshold for "highly compensated employees" (HCEs) has increased to $107,432 per year, up from the $100,000 set in 2004. This is based on the 80th percentile of full-time workers nationally. To be exempt as an HCE, a worker must receive at least the new standard salary level on a weekly basis without factoring in bonus or incentive pay.
The Department of Labor also released updates to salary levels for U.S. territories, the motion picture industry, and adjusted treatment of non-discretionary bonuses and incentive payments. You can find out more from the Department of Labor's Fact Sheet on the new rules.