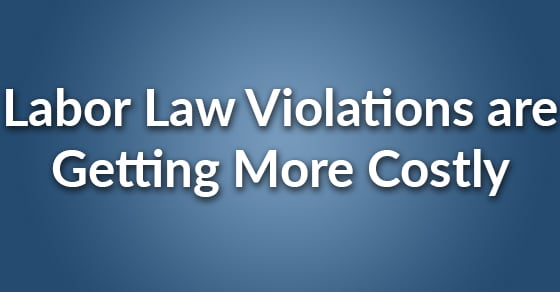 In 2015 a law was passed to start using an inflation adjustment for penalties on labor law violations. Here are some of the penalties for 2019:
Minimum wage and overtime - The penalty for a minimum wage or overtime violation has increased from $1,964 to $2,014 per violation. If you are found to be paying your employee(s) incorrectly it will cost you more than back wages. Keep in mind that household employees like nannies, caregivers, and housekeepers are non-exempt and are due overtime unless specifically stated otherwise in state law (uncommon).
Child labor - This isn't just for young children working and the penalty for any violation of the applicable federal statutes has increased from $12,529 to $12,845. This may apply to situations like a legally hired minor working too many hours or improperly operating machinery.
Other penalties - Certain other penalties have also increased regarding the Employee Retirement Income Security Act, the Occupational Safety and Health Act, the Migrant and Seasonal Agricultural Worker Protection Act, the Immigration and Nationality Act, the Contract Work Hours and Safety Standards Act, and the Walsh-Healey Public Contracts Act.
Seasoned hiring managers know to keep up with the changes and even then things can slip through. If you are new to hiring this can seem like an uphill battle. If you are looking to hire a household employee you are in luck, we offer free consultations to talk about these very things! Corporate hiring is a little different than household so if you have a business it is best to get your questions to corporate employment experts.