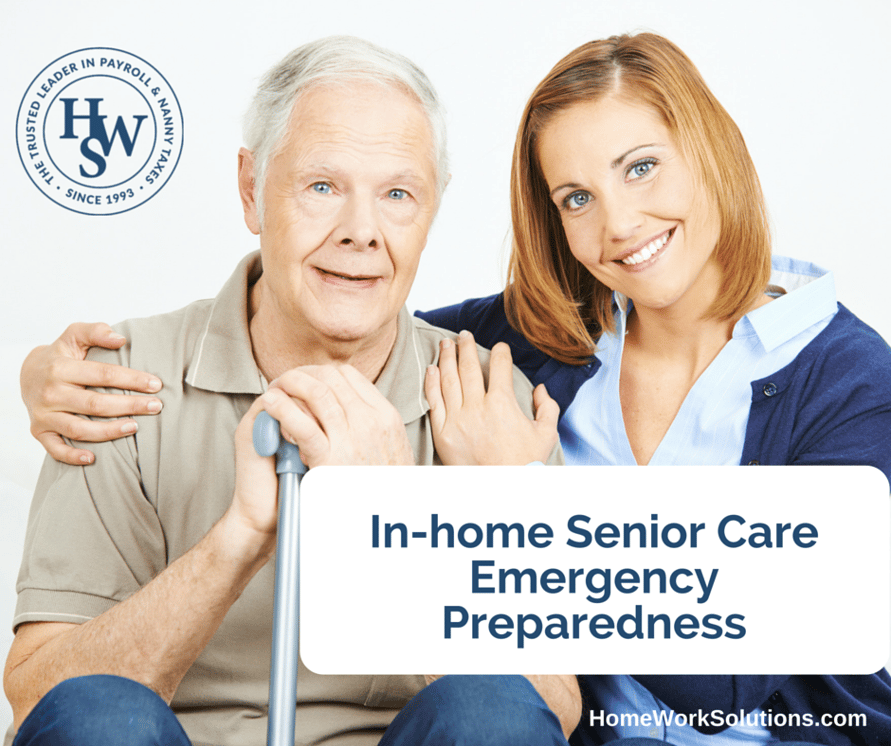 Life with a senior citizen can be unpredictable at times and for this reason, employers need to have plans in place in the event that an emergency happens. Senior citizens are some of the most vulnerable victims when weather disasters happen and they often live with health issues that require close monitoring, so having an emergency preparedness plan in place should be top priority. Here are some tips on how to prepare for emergency situations that can happen unexpectedly.
Tip #1: Create a policy within a written work agreement.
Planning ahead can save you significant time, money, and stress! Set aside some time to create a written agreement that will be signed by your in-home senior caregiver. Include a policy on what happens in the event of weather changes that make it unsafe to travel to work as well as a policy on whether or not your loved one should stay or evacuate in the case of a significant natural disaster.
Tip #2: Make a plan.
Once the policy is set in place, set a family meeting with your in-home caregiver to create an emergency plan of action. Designate key people such as other family members or neighbors that you can rely on for help, as well as meeting locations and necessary phone numbers. Next, go over a safe escape route out of the home for your senior caregiver as well as the elderly citizen that is easy to remember. It's okay to practice the plan with your loved one as well as the caregiver to ensure that they haven't forgotten the protocol.
Tip #3: Have an emergency kit ready to go.
In the event that inclement weather strikes, be sure to have an emergency kit prepped and ready to go. In this kit, include a variety of non-perishable food (at least four days' worth), as well as plenty of water, medical supplies, and extra medication. Be sure to have extra toiletries, batteries, clothing, blankets, and matches on hand. Refresh and replace the supplies on a regular basis – at least once or twice a year.
Tip #4: Have a contact list handy.
Provide your in-home caregiver a valid contact list, including family members and friends that can be reached in the event of an emergency. The list should also include important health care providers and doctors that your loved one may need to be in touch with.
No one plans on an emergency situation, but being prepared ahead of time is the safe, smart thing to do.