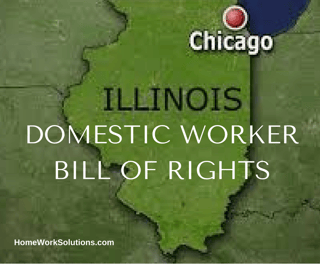 If you employ domestic employees in the state of Illinois, there is a new law that has recently been enacted that will protect domestic workers from employer discrimination. The changes will be enacted starting January 1, 2017 and are important for employers to take note of. It's estimated that up to 35,000 people will be impacted by the law change. The law follows suit with other states that have made similar changes in their laws. In the last three years, New York, Connecticut, California, Massachusetts, Hawaii, and Oregon have all enacted legislation that indicate that there are specific guidelines to adhere to in regards to fair pay, overtime wages, discrimination, and harassment. Here are the details.
Litigation:
Under the new law, a domestic employee can file a sexual harassment case, retaliation case, or discrimination case. These rights didn't exist before and because of this, this is one of the biggest impacts of the law.
Minimum Wage, Breaks and Time Off:
You must pay your employees at least minimum wage that is designated by the state of Illinois. Employees are also required to have at least 24 hours of rest each week if they have worked over 20 hours in a week. In addition, for every 7.5 hours they work, you are required to give them a 20-minute break. The break is a paid break if the employee is not relieved from duty (able to leave the worksite).
What type of workers qualify for protection under this law?
All domestic workers that work in Illinois are protected under this law including housekeepers, house cleaners, cooks, chauffeurs, nannies, caregiver, home health care providers, home managers, or personal companions that offer assistance to elderly people or those that are disabled and require in-home care.
How should you proceed?
Review your employee policies and be sure that all employees are being paid fairly and are getting adequate time off. Review timekeeping and recordkeeping policies to make sure you're in compliance with the law's new requirements. If you're unsure of where to begin when it comes to keeping track of the various changes to taxes or legislative changes that happen every year, let us keep on top of it for you! We are experts, so that's why we pay attention to the changes so you don't have to worry about it. Contact our professional and experienced teamtoday to talk about how we can help.