Being a senior caregiver requires a lot of love, compassion, and empathy. Caring for someone aging or ill takes time and emotion. If your caregiver is not making time for themselves, they may feel stressed, exhausted, and at risk of completely burning out. Here are some ways to help prevent burnout in your caregiver, so they can continue giving their best to your loved one.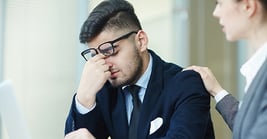 #1: Understand what burnout feels and looks like before it's too late.
Is your caregiver feeling physically, emotionally, and mentally exhausted? Have you noticed their attitude change from positive to negative? Maybe they appear detached or unconcerned about new happenings with your loved one. Perhaps their sleep has been suffering, their appearance has started to change, or you have noticed they are less patient with you or your loved ones. These are all signs their body and mind could be stressed and overwhelmed.
#2: Communicate with your caregiver.
As a household employer, it is essential to develop a good line of communication with your employee from the very beginning. The first step in doing that is creating an explicit work agreement that outlines your employee's duties. This helps protect your employee, ensuring they don't take on additional responsibilities that are not part of their job description, which could ultimately lead to burnout. It also protects you, as it regulates their duties and other policies for your home, and how you want it to operate while they care for your loved one.
Once you and your employee have begun building trust and have a positive working relationship, there should be open enough communication to raise any concerns about their wellbeing. If you notice changes in their behavior and can sense they are feeling close to burnout, don't be afraid to mention it and offer to help find a solution.
#3: Offer a good benefits package and encourage your caregiver to use them.
Attracting and retaining a good caregiver for the long-term means offering competitive pay and a good benefits package. It would be best to consider some benefits, including paid vacation days, paid holidays, health insurance coverage, mileage reimbursement, or payment for continuing education. If your employee doesn't have time off to take care of themselves, you're likely to have an employee who is weary and burnt out. Make every effort to prevent this from happening by offering time off and making it easy for them to use those days.
#4: Stay on top of tax withholdings and payroll.
If you have been irregular with paychecks or have been paying your caregiver 'under the table,' you may be putting significant stress on your employee and not even know it. Your household workers deserve to be paid on time, every time, with the proper amount of federal and local taxes withheld. If they have a substantial tax bill at year-end or if they don't know if you will pay them on time, this adds undue stress to their job. The good news is that hiring HomeWork Solutions to do all payroll and tax prep is a win-win for both of you. You don't have to worry about lifting a finger, and your caregiver can be confident they will be paid accurately and on time with no surprises.
Contact us today at 1-800-626-4829 to learn how we can help with the various payroll and tax details that come with hiring your caregiver.