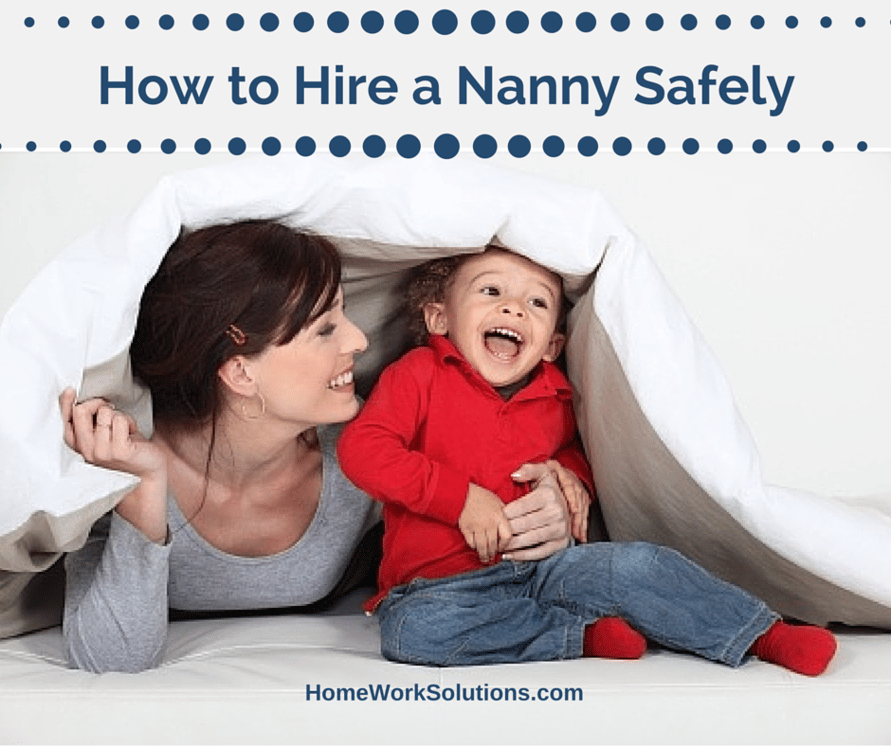 Finding a nanny to watch your children is one of the most important decisions that you'll make as a parent and there are truly some wonderful nannies out there searching for a job. Once you have put out a job notice and have started narrowing down your candidates, you've crossed the first hurdle. Next, you'll need to spend some time getting to know the candidate and doing some in-depth research on each person. Hiring a nanny safely requires gathering as much information as possible, checking references, and doing a background check. Then, you'll need to monitor their performance on an ongoing basis to ensure that they are doing their job well and treating your children with the utmost care and love.
Going Above and Beyond
Your children's wellbeing is what matters, so taking time to gather information along with the nanny's resume and application is very important. Once you have conducted an in-person interview and have asked to see their identification documents and reference list, get permission to complete a legit background screening from a reputable source such as NannyVerify.com. While you're waiting for background test results, call each candidate's references and ask questions that dig deeper than the traditional interview questions. Not sure what questions you should ask to the references? Here are some recommended questions:
Why did the nanny leave the position at your home?
What would you say is the nanny's primary strength is?
What about the nanny did you most respect?
How would your children describe her?
How comfortable did you feel about the nanny's ability to handle an emergency situation?
How would you describe her personality?
Did she get along well with all members of the family?
Was she open to taking on a variety of responsibilities?
How did she handle conflict?
How would you describe her communication style?
Did you feel that your children were safe in her care?
Making sure that you hire a nanny in a safe manner means putting the extra time and attention into researching all that you can about the potential nanny. If you feel that your conversations or interviews are incomplete, take time to conduct a second or even third interview. Or, if you don't get enough information from the references, call them back and have another discussion with then. Cover as much as you can in detail so you don't feel like you only have a partial view of who the nanny is.
The Background Check
When you're having a background check, be sure that the following information is included:
Verification of all job references with employment dates
Verification of legal status to work in the United States
Verification of Social Security number
Verification of past address history
State and federal level criminal records search
County level criminal records search (in each county that the candidate has lived in since age 18)
Driving records search
State and national sex offender list search
Ongoing Review:
Once you have hired the nanny, your primary goal is to make sure that she is doing her job and that your children are being protected and kept safe. Complete regular reviews, keep an open communication line going, and be sure you ask your children to share their thoughts and feelings about the nanny as much as possible. You should always be assured that the person taking care of your children is the best fit for your family and that she is taking care of them in the same manner that you would.
Starla Smith of HouseholdStaffing.com, Inc. suggests some measures used in the staffing industry to ensure your hiring experience is a positive one.
As the founder of Household Staffing, a domestic care agency, there are a few tips I have to safely hire a nanny. First, ask for reference letters from your nanny from past employers. Call the references to make sure you are hiring someone that has a good reputation with other families. Next, make sure to verify eligibility to work in the U.S. Ask for documentation such as a drivers license or passport to verify this information. If you are hiring a live out nanny, make sure they hold a valid and clean driving record to ensure the safety of your children. The next tip is to schedule an interview with your nanny face to face. It is important to ask all the necessary questions to find out any information regarding the care of your children. Prepare a list of questions that are important to you as a family when hiring a new nanny or babysitter. Don't be afraid to get personal and ask very specific questions, as this person will be a great amount of time with your children.