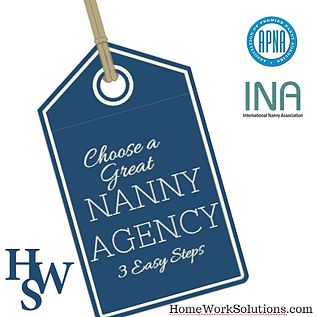 Whether you're hiring your first nanny, searching for a newborn specialist, or an experienced nanny employer, nanny placement and referral agencies can save you a ton of time and effort.
The overabundance of options, however, can be difficult to navigate and understand. Fear not, though! Finding the agency that meets your family's needs all but sets you up for success in the search for the perfect nanny. These three easy steps will help you ensure that the agency you choose is the right match.
1. Choose an agency with professional affiliations. For example, the International Nanny Association and the Association of Premier Nanny Agencies set the industry standards in professionalism and customer service.
2. Choose an agency with a demonstrated commitment to customer support. Good nanny agencies will be happy to field your questions during your nanny's tenure. In person customer service (over the phone, as opposed to email-only) is preferable in many cases.
3. Choose an agency that offers thorough background screening. You will probably want the agency you choose to have an in-person interview for new nannies, a lengthy application, and good reference checks. Furthermore, some nanny agencies that claim to background check their nannies only check at the national level, which use incomplete databases and will only find out if the nanny has been convicted of a felony. A background check that covers the state and local levels is necessary to uncover things like speeding tickets, etc. A reputable nanny agency will be able to tell you exactly what checks they do on the nanny before she starts working in your home. You may also run your own background check with Home Work Solutions NannyVerify.
HWS offers more tips in our Nanny Agency Fact Sheet on choosing the right agency for your family. We also maintain a searchable nanny agency directory at NannyNetwork.com.