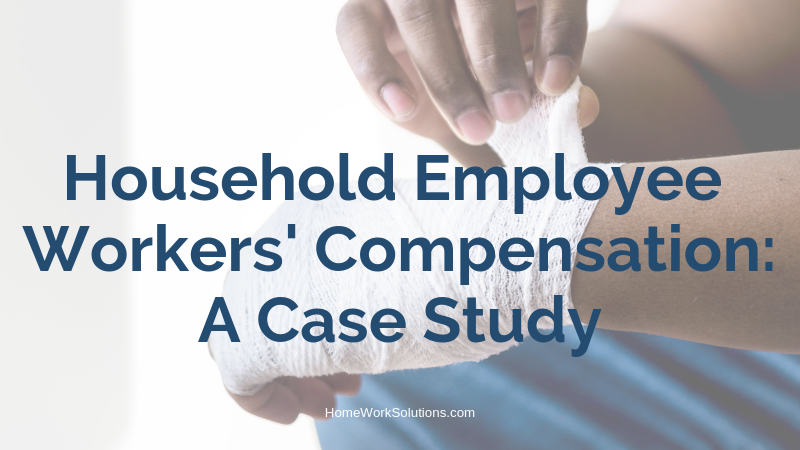 Worker's compensation cases can get messy if they aren't handled by the book. This client story shows the importance of purchasing a Worker's Compensation Insurance Policy.
Background:
Estelle is an experienced household employee and has worked one-on-one with Mary's mother as a senior caregiver for over a year. One night, while attempting to drain a pot of boiling pasta, Estelle suffered scalding burns to her hand and wrist. She went straight to the emergency room and learned she had second degree burns.
Challenge:
While Estelle was in the hospital emergency room, the doctors told her that her injury will prevent her from working for three weeks. The hospital admissions clerk advised her that she should file a worker's compensation claim to help pay for the hospital bills and to receive payments while she was unable to work.
Solution:
Estelle's employer, Mary, is a client with HomeWork Solutions' household employee payroll service and purchased a Worker's Compensation Insurance Policy from our insurance partner. When Mary learned that her household employee was badly injured, she contacted the HomeWork Solutions insurance partner and their staff coordinated with Estelle to file and process a claim promptly. Estelle was given a claim number, which was added to her hospital records.
Result:
The hospital visit, prescriptions, and follow up medical care cost more than $2,000, but everything was covered under the worker's compensation policy. In addition, Estelle received $600 a week as replacement income to help make up for the time that she was unable to work. Mary didn't have to worry about paying for hospital bills for her employee and she wasn't required to research worker's compensation rules. Everything was done for her through the HomeWork Solutions insurance partner.
HWS introduces all clients to their insurance partner, who is licensed in all states, to facilitate obtaining this insurance. Many insurance agents don't want to deal with a small household employer's policy, and household employers can become frustrated in their search for coverage. Workers' Compensation Insurance - yet another way your relationship with HWS will simplify, leaving you more time for your family!