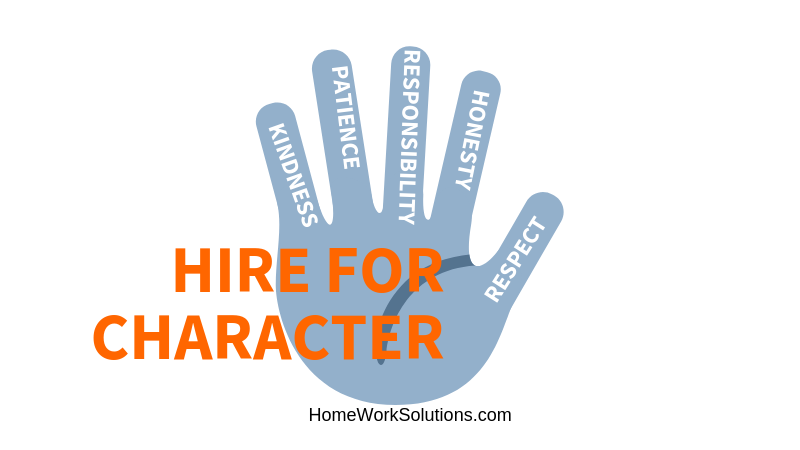 Hiring someone to work one-on-one with your loved one is a very important decision that requires research and dedication. There are many caregivers out there looking for work, but which one is right for you? You may feel overwhelmed at that options, but what it really comes down to is, which person best connects with you and your family? Experience is key, but good character is what really matters. Here are some basic tips for a hiring a nanny with good character.
Competence and Character
It's important to have experience and skills as a caregiver, especially when it comes to working with someone that needs a little bit of attentive care. For example, a special needs child or a parent living with dementia will require a caregiver that understands those issues and isn't afraid to be present and walk alongside the person daily, no matter how good or bad each day is. Building work related skills and building competence is important when it comes to success as a caregiver, but these skills can be learned. If skills can be learned, how can you differentiate one caregiver to the next?
Character
Hiring a caregiver for character is more important than hiring for skill, because in the end, the character of your employee is what will help build a strong, loyal relationship with you and your loved one. Over time, you're not going to remember each class that your caregiver has taken or how much work history they have, but you will remember their work ethic, how they have treated your loved one, or how honest they have been in their communication with you. Skills can be learned, while character is innate.
If you're looking for a caregiver for your loved one, sit down and make a list of what skills are required, but alongside that, make a list of what character traits are most important to you when hiring someone. Identify what qualities you admire in people the most and look closely for those things when you're meeting and interviewing potential candidates.
Next, be prepared to train your new caregiver. Be patient as they learn more about your family and the loved one that they will be working directly with. Patience and communication go a long way during the training process and as you begin to work together, trust will begin start to form. Remember, skills can be learned, but good character and commitment to the common good of the people that your caregiver is serving, is what will make the most difference.