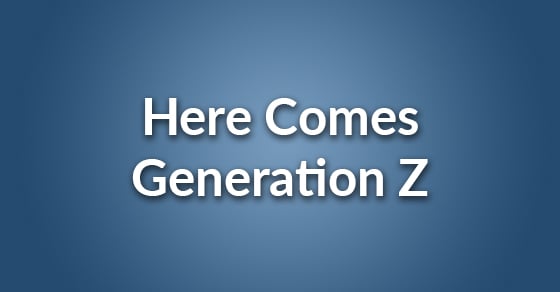 Most companies have gotten comfortable having Millennials in their ranks, which is good because it's time to start getting acquainted with Generation Z! This group is generally thought of to be born at the end of the 90's forward, making the eldest of which in their early twenties.
Members of each generation are largely defined by their upbringing, especially early on like with Generation Z currently. So far there have been two major themes to the world into which they are growing.
"The Great Recession." While Gen Z-ers didn't feel the pinch on their wages (the eldest Gen Z-ers were ~12 years old in 2008) of the recession they likely saw changes in their households. Seeing parents struggle or at least cut back can be a powerful lesson as a child becomes more aware of the world around them. For this reason Gen Z-ers are tending to be more conservative when it comes to employment. They seem to be more drawn to the prospect of job security than accepting risk as many Millennials did while initially looking for work.

Gen Z-ers are also more connected to the world than any previous generation. This means they are learning about larger issues like funding of Social Security and Medicare earlier than their predecessors. Playing up retirement plans could be a good way to catch the attention of
Gen Z-ers.


Digital Natives. Gen Z-ers don't know a world without the internet; they didn't even really deal with dial-up internet, so they are particularly adept at multitasking and being inundated with information. They regularly balance social media, peer-to-peer communication apps, and text messages (sometime they even make phone calls).

There are pros and cons to this social conditioning, Gen Z-ers can connect dots from disjointed sources but can also bore easier and may have shorter attention spans. Asking questions in interviews to help evaluate these skills is probably a good idea.
With every new generation comes a change in workplace strategies. Getting ahead of the curve, or having dynamic HR principals, can be a good way to ensure your company's future.