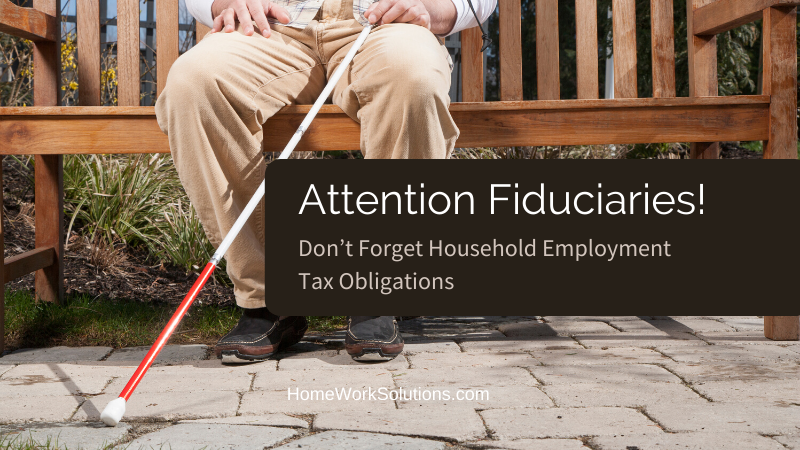 Professional fiduciaries are educationally qualified individuals who care for the financial and personal care needs of individuals who are unable to do so themselves, and who have no close family or friends who are able and/or willing to do so for them.
Professional fiduciaries often find themselves in the position of arranging personal care services for their client. Many of these situations involve engaging one or more individuals to attend to their client's care needs in the client's home.
Historically many professional fiduciaries have simply considered the caregiver they engaged as an independent contractor, and simply disbursed their client's funds to pay for services. The rise of the gig-economy has focused state attention like a laser beam on these so-called independent contractor relationships.
Let's be clear – privately employed caregivers are not independent contractors under any circumstances. They lack key indicators of independent contractor relationships such as investment, profit and loss risks, the ability to have some or all of the work performed by others at a time and manner of their choosing. This is not new, it is simply becoming better understood.
Treatment by the professional fiduciary of privately employed caregivers as independent contractors poses significant risk to the fiduciary on both a professional and financial level.
Let's Explore
What an Independent Contractor Is
California, for instance, codifies the ABC test in AB-5 to determine a contractor relationship. The worker can only be classified as an independent contractor if:
the worker is free from control and direction in the performance of services; and
the worker is performing work outside the usual course of the business of the hiring company; and
the worker is customarily engaged in an independently established trade, occupation, or business.
This ABC test is used by the US Department of Labor and 33 states – it is not unique to California.
The other 17 states use the Common Law test, which examines behavioral control, financial control, and relationship of the parties to determine whether an employee or independent contractor relationship exists. When the employer wields ANY of these controls over the worker, the worker is an employee.
For the purposes of privately employed in-home caregivers, we can stop at the common law test of behavioral control, as the time and place of employment are determined by the employer.
It is clear under either test that privately employed caregivers are employees. As such, just as nannies are for young children, in-home caregivers are employees of the family unless they work for and are paid by an agency through which they are hired.
Fiduciaries are legally, ethically and morally required to adhere to the law and to act in their client's best interests by ensuring that payroll taxes for privately employed caregivers are paid and tax documents such as W-2 forms are issued.
What does this all mean?
Household employees need to be treated much the same as any other business employees. The employer (your client, whose funds you administer) must:
Contribute to Social Security and Medicare taxes - total 7.65% can be deducted from the employee's gross pay, and your client is responsible to remit the entire 15.3% to the IRS (whether they deduct from the employee or not);
Contribute to state unemployment taxes - budget $350 a year per worker; reports and taxes are generally filed and paid quarterly;
Contribute to Federal Unemployment Insurance Fund - generally $42/employee/year;
Obtain Workers' Compensation Insurance - this is CRITICAL. The above involve back tax payments, interest and penalties generally when caught. Failure to have Worker's Compensation Insurance can cause your client to be liable for all liabilities from a workplace accident or injury. You, in turn, could be sued for

breach of fiduciary duty;

Forms W-2 are distributed in January each year.

Insure adherence to labor law formalities including but not limited to hourly pay, overtime pay when applicable, and itemized pay stubs.
HomeWork Solutions Can Help
The household payroll specialists at HomeWork Solutions have supported families, CPA's, attorneys, trust companies and fiduciaries for nearly 30 years. We make compliance easy, and mitigate the risks of non-compliance for fiduciaries, trustees, and others who administer their client's care and financial matters.