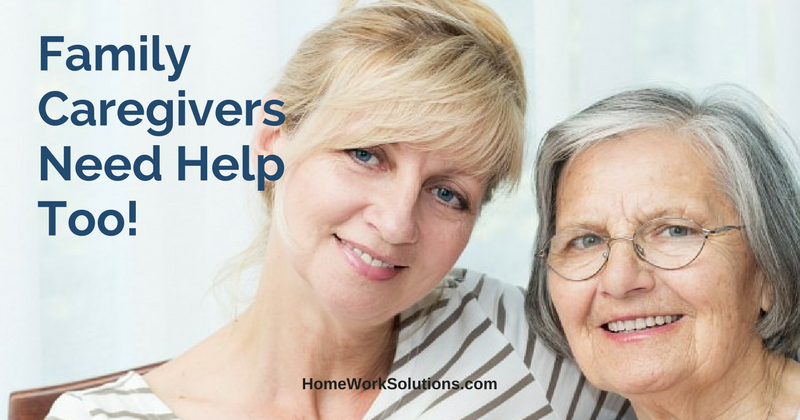 If you're taking care of an elderly parent, you know how many things there are to juggle at once. Whether it's cooking meals every day, paying income taxes, or running to doctor appointments, there are usually endless numbers of tasks that will accumulate from day to day and week to week. It is important to take care of yourself in the midst of taking care of your loved one. Family caregivers need help too, so here are some things you can outsource to simplify your life and have a better routine for caregiver self care.
#1: Payroll, taxes, and money management.
If you have hired an additional caretaker for your loved one, but you're still managing the books and the overall payroll process of paying the household employee, you can outsource household tax preparation services to a reliable company like HomeWork Solutions. Our experienced team of experts can help you pay your caregiver on time and withhold all of the appropriate taxes, so you can rest assured knowing that you won't have any hidden fines or fees when it comes to tax time.
#2: Housecleaning.
A qualified, professional house cleaner will make your life so much easier. Say goodbye to vacuuming all the time or scrubbing toilets or floors. Hiring a housekeeper to come in on a weekly or bi-weekly basis will give you more quality time to spend with your special family member. Not to mention, the house will be clean and free of germs that could cause your loved one to get ill.
#3: Errands and meal services.
There are a variety of meal delivery and grocery delivery services that can reduce your in-store shopping or cooking time. Research your local area supermarkets to see if they offer grocery delivery or parking lot pick up. Meal delivery services can also be great options because they will provide all of the necessary ingredients you need per meal, with easy to follow instructions that can help reduce your cooking preparation time.
Don't neglect yourself just because you're helping take care of your loved one. If you're feeling stressed and overworked, it's important to research how you can outsource some of your duties, so you can minimize stress. Self-care is an essential part of being a caretaker. Contact us today for information on advice for caregivers and how we can help you with helping manage your household employee's taxes or payroll.