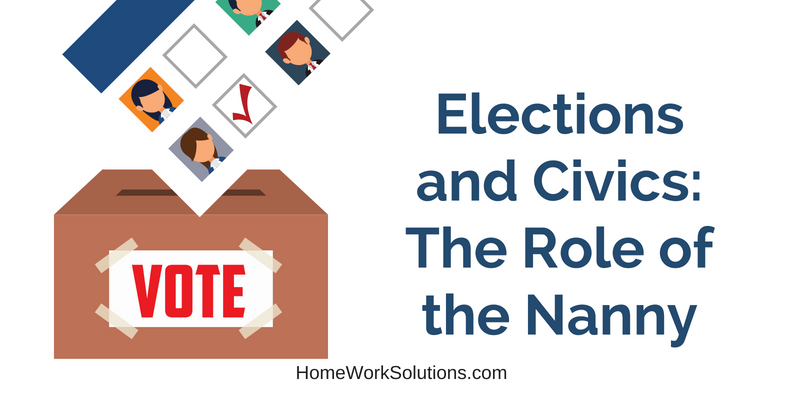 Nannies spend a lot of time with the kids each day. That often means there is a lot of dialogue and sometimes many hours of answering questions or explaining things. When it comes to major life changes or happenings around the world, kids are usually observing more, even though we may not think they're paying that much attention. Things going around them can affect them, so it's important to promote positive communication.
When it comes to elections or other political happenings, things can sometimes get tricky with children and politics. They may be seeing ads on television or Internet or listening to topic discussions on the radio that seem confusing. A recent survey showed from Kidshealth.org asked 2,000 kids and teens in the United States what they felt about the presidential elections and how it could impact them. Results showed that 75% of kids and 79% of teens answered "yes" when asked whether they thought that the outcome of an election would change their lives. Nearly half of teens surveyed said that they believed they'd had at least some influence on their parents' choice of candidate.1
Handling delicate questions:
When handling discussions with kids and elections or other political happenings, many delicate questions can arise. Encourage the children to express their views on what's happening and what they believe. Ask them how it makes them feel. This makes them feel heard and valued. As a nanny, it is also important to talk with the parents about how much is okay to share with them in regard to your views or advice. If nanny's opinions are vastly different from the parents, that's okay. However, do clear the air between nanny and parents on what the conversational boundaries are, and when nanny should defer to the parents in answering delicate questions. Just as in religion or spirituality, some things are best left to the family. Focus on using each conversation as a learning opportunity and one that engages them and encourages them to express their ideas. If nanny is uncomfortable answering a question, nanny should be sure to let the parents know the question came up so mom and dad can address with their children.
Encourage them to get involved:
Many kids are very interested and concerned about current events. Taking action can help them feel empowered to share their ideas to create a better world. Help kids think of tangible ways that they can do to make a difference, starting with the world they are surrounded with each day. For example, if they're concerned about negative environmental impacts, help them find ways to "go green" around the house and encourage them that their decisions do make an impact, even though they might seem small.
Being a nanny means you're intricately involved in the day to day happenings of a child's life. With that, comes conversations that are valuable and meaningful. Talk to the child's parents to see if there are specific ways they would like you to respond to conversations that may be particularly heavy and follow their lead. By doing this, you'll foster positive communication with the whole family.
Have you fielded delicate questions from your charges, or have an amusing anecdote? Share below.
---
"Talking Politics: What to Say to Your Kids." KidsHealth. https://kidshealth.org/en/parents/voting-banner.html
Accessed online April 25, 2018.