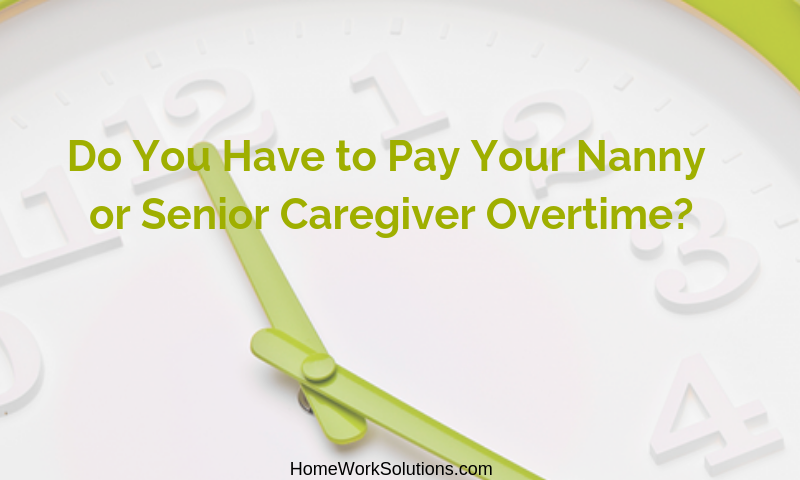 Do you have to pay your nanny or senior caregiver overtime? Overtime is a topic that many people are confused about, and we get a lot of questions surrounding it, too. Most household employees work more than 40-hours a week, a necessity if their employers are going to be free to work their own full time job. Household employees are hourly workers under Federal law, and most caregivers who come and go are entitled to an overtime differential of 1.5 times their regular hourly rate of pay . Even if your employee has agreed to not be paid overtime, you will still need to factor overtime into their weekly rate of pay. Why? It's the law and you will be held to that standard if there is ever a wage dispute. Here's an example to help you figure out what is required on your end.
Example:
Your household employee is paid $20 an hour for 45 hours, which translates to $900 gross pay per week. Using our hourly rate calculator, you can break down what the regular pay is versus the overtime pay. If your employee works more than 45 hours, they will need to be paid the overtime rate, not the standard rate for those hours. That means the hourly rate will change to $18.95 and the overtime wage is $28.42. Weekly hours that go over the 40-hour a week mark, all of those hours will need to be compensated at $28.42 an hour. The only exception to this rule is a senior caregiver whose duties legitimately classify them as a companion caregiver.
Still not sure how the overtime rules work? HomeWork Solutions complete household employee payroll services make all these details effortless and you won't have to worry about miscalculating something. We are experienced in working with household employees with a wide variety of duties. If you are not confident on how to tackle overtime calculations, it's best to let the professionals do it, as this could cause for costly fines or fees when a complaint is filed. Contact us right away to get your employees set up correctly from the get-go!