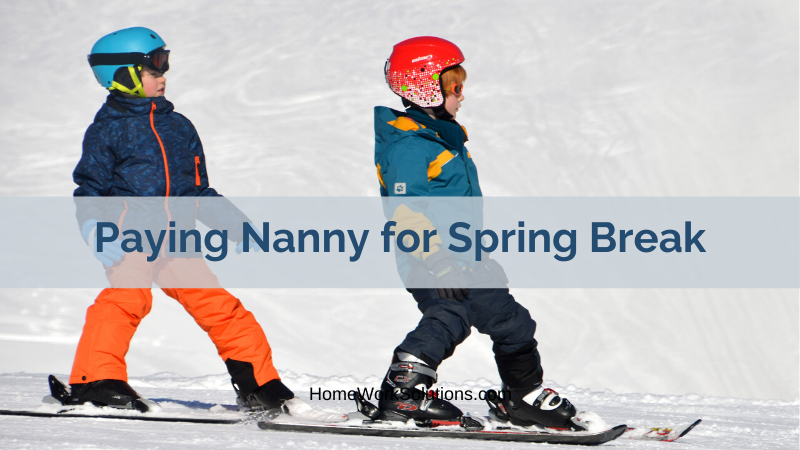 Spring break will be here soon and it's a time that many families use for scheduled vacations. It's a great time to reconnect and recharge with each other and if you're not planning on bringing your nanny with you, you will need to know how your vacation will affect her.
If you go on vacation and you choose not to use your nanny's services, she should be guaranteed pay for her regular hours. This is a standard industry benefit for nannies and it means that if you decide you don't need her to work during an extended time period for a vacation and she is still available to work, you pay her for her regular hours, as she is still depends on her wages.
If you want to give the nanny the option to come with you during your spring break trip and tell her she can help provide her regular nanny duties during that time, you can do that and pay her as normal, too. However, if she chooses to take time off work and do her own vacation, you will not be required to pay her.
A Nanny Work Agreement is a Best Practice
At the time of hiring, the written work agreement that you write up with your nanny should address all the basic policies regarding her time off, sick days, paid holidays, and any other things that may pop up unexpectedly with the job like inclement weather issues. When you pre-plan both you and your family's nanny have clear expectations. Having everything clearly written out in a contract, especially when it comes to guaranteed hours, will help avoid frustration or confusion. And of course, the best thing to do is to discuss with your nanny well ahead of time about your upcoming vacation, so you can be sure to answer any questions or clarify any details.
Our team at HomeWork Solutions is experienced in helping clients develop a clear and concise nanny contract and can also help explain guaranteed hours in greater detail if you need it. We know your life is busy and planning a vacation should be an exciting time! Simplify things and contact us today for more information!