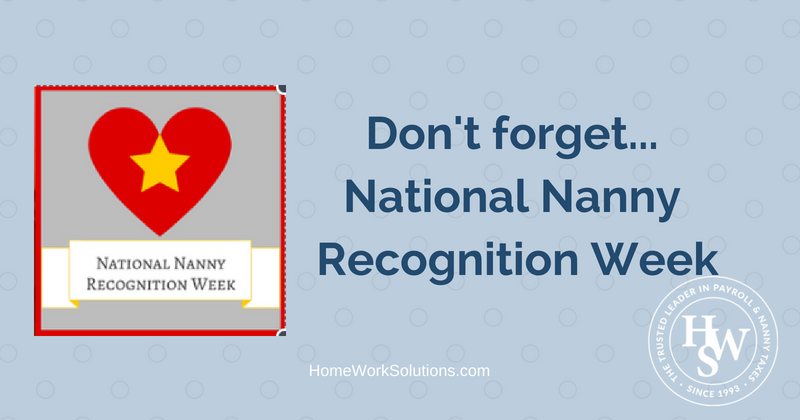 Your nanny works hard for you day in and day out, so making sure she feels valued and appreciated is very important! As you build a solid relationship with your nanny, they will begin to feel like they're part of the family. So, in addition to offering a fair compensation package and regular time off, it's nice to acknowledge her contributions to your family in special ways.
National Nanny Recognition Week 2018 is September 23 - 29. Here are some great ways you can express gratitude for a job well done.
#1: An unexpected day off.
Time off is valuable and needed, especially for your nanny. A time to relax and recharge means she will come back to your family feeling fresh and rejuvenated to give her best work to you. Surprise your nanny with an unexpected day off every so often, or, consider letting her off work a couple of hours early when it's possible. These little gestures are not hard to manage and can go a long way in making your nanny feel appreciated and cared for.
#2: Gift certificate.
Does your nanny have a favorite place to shop or a restaurant that she loves to go to? Surprise her with a gift certificate to one of these places and watch her face light up! Gifts like this can be great ways to give her the "night off" and can give your nanny something to look forward to.
#3: Thank you notes.
A handwritten thank you note nowadays is a rarity. Bring this classic tradition back and leave your nanny a thank you note telling her that she is doing a great job. Another idea is to have your kids help write the note or have them color a picture that expresses what she means to your family. These kinds of notes make your nanny feel valued and they could even become keepsakes that she will treasure for many years to come!
More nanny recognition ideas can be found here.
When you hire the right nanny, she becomes part of the family team. Ultimately, this team is what helps develop great, well-rounded children! Creating an environment that includes respect, fun, mutual appreciation, and strong communication will give your nanny the confidence she needs to do a great job in working for and with your family.