Mom is struggling to remember to take her medications on time. She is having difficulty cooking and you are noticing a decline in hygiene. Maybe she is a bit wobbly on her feet as she continues to age, putting her at greater risk for a fall. These things can be part of the aging process, but it is difficult to watch. When you want what is best for your aging parent, what do you do? In-home senior care is the answer for many families around the country. This allows your elderly loved ones to live in their own home, on their own terms. Here are some reasons why hiring a senior caregiver can help.
#1: Caregivers allow your loved one to maintain their independence.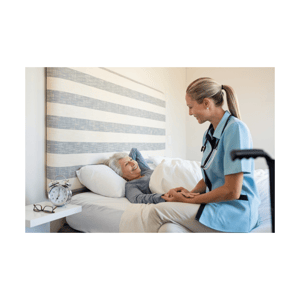 Many seniors dread losing their sense of independence. It can feel isolating when they can't get around like they used to and must stay on someone else's schedule. Staying in one's own home can work wonders for their state of mind. Compassionate, personalized care from an in-home caregiver translates to a big weight off your shoulders and comfort for your parent.
#2: Caregivers offer attentive care personalized for your loved one
Caregivers get to know your aging parent. Whether it's assistance with bathing, dressing, or managing medications, a trained senior caregiver provides your loved one the help that they need, when they need it. Other services that are often provided include:
-Transportation
-Housekeeping
-Meal preparation
-Grocery shopping and other errands
-Laundry
No two patients are the same, but hiring an in-home caregiver allows you to ensure they get exactly the help they need.
#3: Caregivers provide peace of mind
It can be stressful to see your aging parent struggle – especially if you can't be with them at their home to check on them. Having a professional senior caregiver gives you the peace of mind you need, when you know someone else is there to make sure your parent is being looked after. They will be able to assess your loved one's health condition and eating habits, appearance, and behavior. This should let you rest easy knowing that your loved one is getting the best care possible.
#4: Caregivers provide more than services, they provide companionship
While your senior caregiver is providing valuable services to keep your loved one safe and healthy, they also provide something more valuable: emotional support and companionship. A new friendship with regular encouragement and connection can go a long way in helping seniors find hope and positivity as they face new challenges in their health and aging journey.
#5 Stretch your budget further
Simply put, senior care is expensive! When you hire a caregiver directly, you can minimize costs by taking the middle man out of the equation. This allows you to get more hours of care, or to hire a more qualified caregiver. Further, overtime rules in many states are favorable to domestic employers, especially those with live-in caregivers. All in all, direct hire of in-home caregivers can offer savings between 25-30%.
If you are considering hiring a senior caregiver or have recently hired an in-home employee, it is important to make sure you are paying them on the books. That means you will need to withhold proper taxes and set up a payroll system that runs seamlessly. Feeling overwhelmed by the thought of that? Our experienced team at HomeWork Solutions can help. Contact us today to talk about how we can help manage all payroll and tax filings for your senior caregiver's employment.