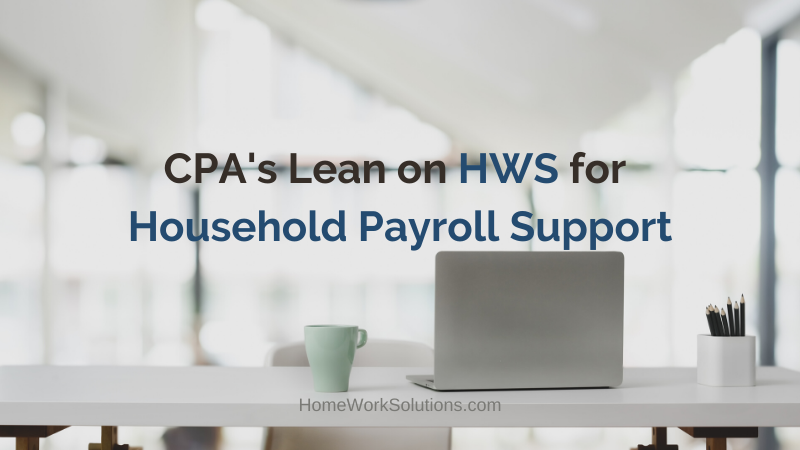 HomeWork Solutions has supported families nationwide in their household payroll tax compliance for nearly 30 years. We have experienced trying times before - from 9/11, the Dot-Com and Real Estate crashes, to natural disasters. Never has the pace of change been so sweeping and global as the Coronavirus Pandemic and resultant economic shut down.
Many families and their CPAs are discovering that prior non-compliance with household payroll taxes is coming back to bite as suddenly unemployed nannies, housekeepers and senior caregivers are filing for unemployment benefits. The HWS team is currently helping many families catch up with their prior year tax filings so as to ensure their former employee's eligibility for benefits and to stay ahead of an audit.
The HomeWork Solutions Enrollment team can create order out of chaos for families who have not previously been tax compliant, perhaps have sketchy records, and need a solution fast. In a matter of days we can have tax accounts established and past due reports and payments filed!
The HomeWork Solutions Knowledge Center has been updated throughout the COVID-19 crises with information about how the financial relief packages passed by Congress impact household employers and their employees. Check out our videos about the Families First Coronavirus Response Act (FFCRA) and Economic Impact Payments in the CARES Act. We've also posted articles to answer all of your clients' questions about Unemployment Claims and documentation required for FFCRA Tax Credits.
If you or your clients have questions about how HomeWork Solutions can alleviate the burden of household payroll and taxes, please give us a call at 800.626.4829.