Do you have a aging loved one who may need senior care while you go to work every day? Are you feeling overwhelmed with your caregiving responsibilities?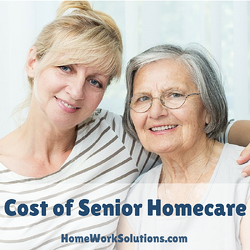 More families are considering the possibility of privately hiring senior home care for someone it their family as a way to help their loved ones age in place in a safe and happy environment. This is uncharted territory for most people, and adult children who may have hired nannies to care for their children years ago wonder what they need to consider when hiring senior home care assistance.
Costs for In-Home Senior Care
Finding a trusted caregiver to come into your home every day is a stressful process and the options seem very similar on the surface. There are three general staffing and pricing models for in home senior care, but endless variations. Here's a start:
Agency caregivers
When you hire a caregiver through a senior care employment agency, the caregiver is an employee of the agency. The agency handles payroll, taxes, insurance and scheduling. Expect to pay $18 - 30 per hour to the agency for the typical senior caregiver - costs vary considerably by geography. The fee you pay the agency covers the caregiver's wage, the agency's employment taxes, the agency's care coordination overhead, workers compensation and bonding insurance.
Registry caregivers
Registry caregivers are recruited and scheduled by a private senior registry service but are paid directly by the caregiver family. Expect to pay $15 - $20 an hour, divided between what you pay the caregiver and what you pay the registry.
Families may also engage the registry to process the net payroll. The registry collects a fee for their services either on an hourly or daily rate model.
Because you pay the caregiver, or outsource the payroll to the registry, in most states you become the employer, and therefore assume tax and workers compensation insurance responsibilities. Be very careful here, many registries will tell you "don't worry, we track hours and do the payroll."
The critical question is whether the Registry is paying the caregiver's employment taxes. If the answer is no, the family receiving the care may be legally responsible for paying these taxes. Increasingly states, are requiring that registries fully disclose this to hiring families. Your household payroll taxes will add $1.50 - $2.50 per hour to your costs.
Generally speaking the fee you pay the senior care registry only pays for their care coordination, and not workers compensation or bonding insurance, and not payroll taxes.
Private hiring - going it on your own
This is the most economical means, but places considerable scheduling and record keeping responsibilities on the family. Expect to pay $12 - $20 per hour, and factor in the costs of payroll taxes and insurance. Still, hiring privately costs about 20% less than hiring through an agency, even after outsourcing payroll and tax services. Important as well is that this arrangement means the caregiver earns about 20% more than she would through an agency. This has a positive impact on worker satisfaction and reduces employee turnover.
Do you have questions about household payroll taxes and your budget. Give HWS a call at 800.626.4829 or request a telephone consultation with one of our trained household payroll specialists. The call is free!
Learn more about privately hiring senior home care.