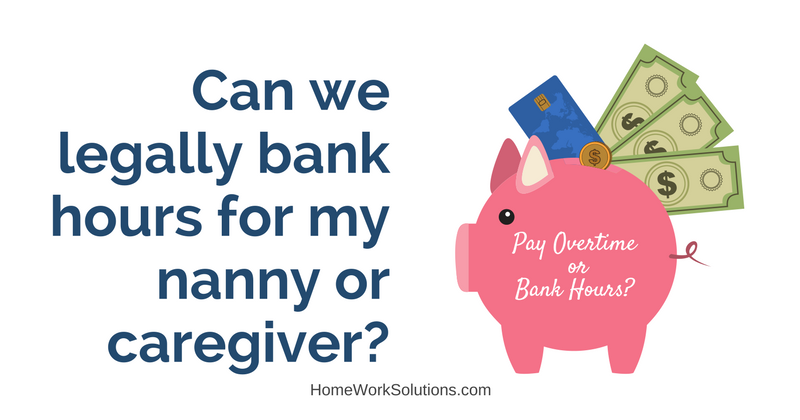 Once you've found the right person to serve as a nanny or caregiver in your home, you'll be able to rest easy knowing that your loved one is in good hands while you're away. Once you've hired your caregiver or nanny, you'll discuss what hours they will need to work, but if you're planning on banking hours, or carrying their hours over, be aware that this process is illegal. Federal law requires that your household employee is paid for each hour they work and if they work more than 40 hours in any given week, you must pay them overtime at a rate of at least 1.5 times their regular rate. Some states mandate daily overtime.
For example, if the Smith family hires Melinda to take care of Alice, an elderly family member from 8 to 5:30 Monday through Friday, they are giving her 47.5 hours of guaranteed work. One week, Alice decides to go on a family trip with everyone and the nanny gets 2 days off during the week, even though she is guaranteed those hours and gets paid for them. If the Smiths decided to bank those hours, they would have 19 hours in the bank because they paid their nanny for two days that she ended up not working. So, to make up those hours, they ask Melinda to come in and help on the weekends for 3 hours for the next couple of weeks, in addition to staying late throughout the week. Her pay is not adjusted at all.
This is not only illegal, but it is also disrespectful to the caregiver's time. It can take a negative toll on the caregiver/family relationship and make her feel as if you as the employer don't value her. Federal laws require that your household employee is paid for each hour worked in a 7-day time frame. This is designed to keep employers from moving hours around to avoid overtime pay. Carrying hours forward into another week is not allowed, according to the law.
If you do not pay overtime and you were required to do that, it could be a costly mistake. There are hefty penalties and fines for not following labor laws correctly, so it's important that you have the right information right when you first start working with your household employee. Talk to one of our household payroll specialists for information and clarification on banking hours versus what it means to pay overtime. This will help you avoid confusion, frustration, and expensive errors. We also have wage and labor law summaries for every state available for free download.