Household staff, and nannies in particular, find that a former employer's letter of recommendation is an important part of his/her professional portfolio. The nanny or house manager often uses this portfolio, which is a collection of materials including her resume, work history, educational certifications, and examples of her work, to help 'sell' herself to prospective employers in the job interview. These letters are an important initial reference for families when they begin screening potential nannies and house managers.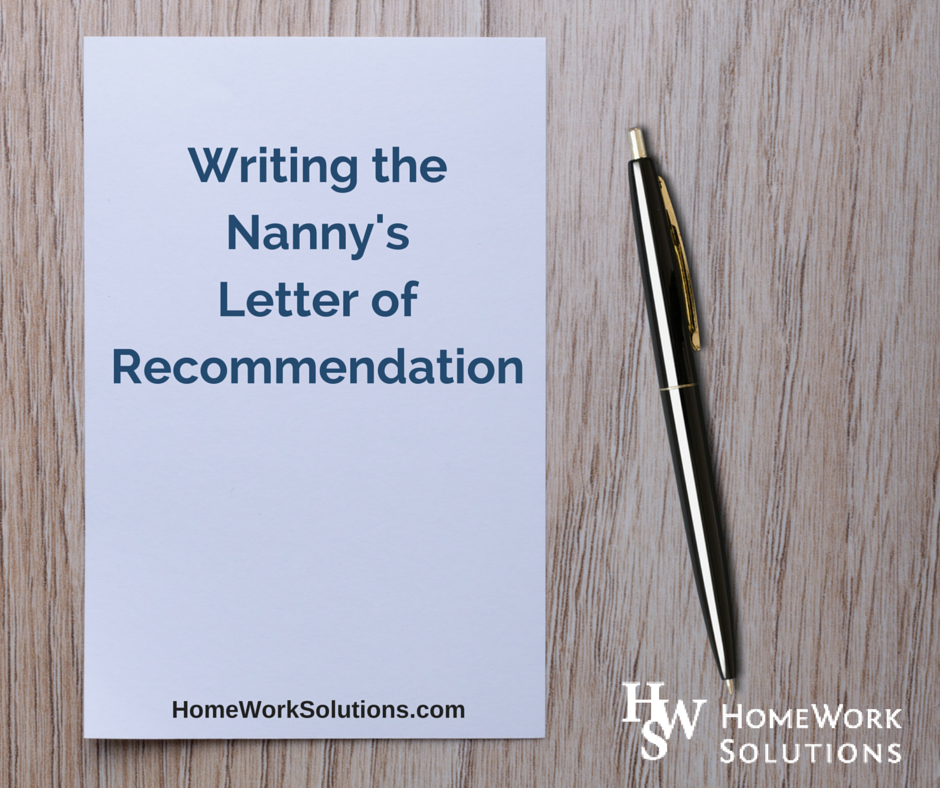 When you write the nanny's letter of recommendation, it is important to remember that this letter is not a thank you note to the employee for good service. You are writing this letter parent to parent, or employer to employer.It is directed to the potential hiring family - a family with young children like yours who is trying to decide whether the nanny or house manager will be a competent, caring, and dependable addition to the household.
A letter of recommendation is typically organized as follows:
A general salutation (Dear Sir or Madame) is typically used. You don't know who will be reading this letter, and you want the former employee to be able to use it multiple times if necessary.


State the basic facts – the dates of employment, the general hours worked, the ages and number of your children, her scope of responsibilities, particular skills or talents, whether she lived in or out. This serves to confirm the nanny's or house manager's resume data. Compensation history is not part of a letter of recommendation.


Next, choose three or four of your former employee's positive traits that meant the most to you and your household. Describe positive traits in typical sales "Feature" and "Benefit" terms. For example, your nanny rarely called out sick and was always on time (the feature) so your household always ran smoothly and you could consistently meet your professional commitments (the benefit). Your nanny might have a take charge attitude (the feature) that allowed you to go about your business day without numerous interruptions and questions from the nanny (the benefit). Your nanny might have a very sunny disposition and endless patience (the feature) that allowed her to deal with repetitive or difficult situations without ever being cross or discouraged (the benefit). It is helpful if you could provide a specific example of some, if not all, of the positive traits. For example:

"Jennifer is unfailingly cheerful, with a sunny, positive outlook on life. Our child is developmentally challenged. Jennifer enveloped him in love, displayed endless patience, and consistently gave encouragement, acceptance and love. Our child continues to achieve beyond our expectations, and, like Jennifer, never becomes discouraged. We have been blessed. If you are looking for an honest, dependable caregiver who will love your child unconditionally, we encourage you to consider Jennifer."




It is helpful to describe why the employment ended and your regret in losing your valued employee.


Provide the hiring family with a way to contact you should they have further questions. You should leave either a telephone number or a permanent email address. Your physical street address is not required, nor is it recommended due to safety considerations.


Always make sure the letter is signed and dated.


Changing jobs is stressful for household staff, particularly when she is leaving a situation that she loves and where she knows she is appreciated. This letter really is a thank you to your nanny or house manager – one of the nicest ways you can put the final punctuation mark to your employment relationship.
~~~~~~~~~~~~~~~~~~~~~~~~~~~~~~
Related links: