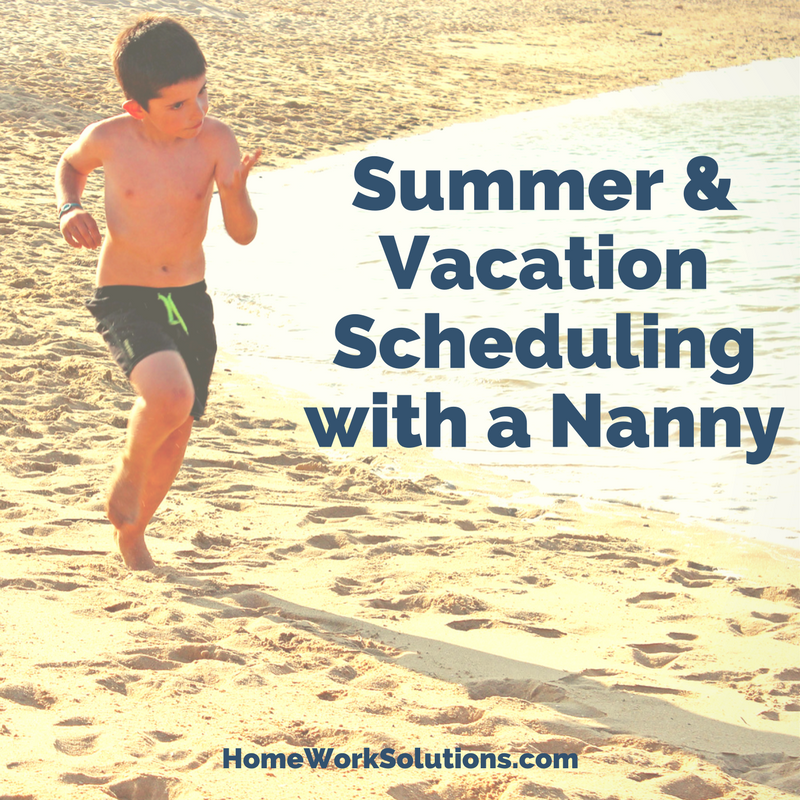 Summer is coming. I count the days until I can wear flip flops, have some daylight at the end of my work day, and am already day dreaming about a summer vacation. Most of us anticipate summer. Many nannies, however, dread the coming summer months. Why?
Will my employers pay me during their vacation?

Most nannies and their employers have a very informal work relationship, without any formal written agreement. The work and pay related details that most employers take for granted - Paid Time Off (sick/vacation/personal) and vacation scheduling - are gray clouds over the nanny's head. Many wonder, and are afraid to ask, will I be paid?
Most nanny employers have established rules in their workplace - paid holidays, a paid vacation policy, and colleagues to share the work load when one is absent. Nannies often have none of these things formalized.
As a rule of thumb, the full time nanny should be paid for any regularly scheduled day when she is available to work and the family, for any reason, decides they don't need her. This includes holidays such as the 4th of July as well as the family's beach week. The full time nanny should have an agreed number of Paid Time Off (PTO) or flex days available to her and reasonable latitude to schedule her personal vacation, etc. She may have some scheduling limitations, agreed to in advance, as to the timing and duration of vacation time, but should have reasonable discretion in the matter.
There are usually some times during the year when the family's vacation does not coincide with the time scheduled by the nanny. It is perfectly reasonable for the family to ask the nanny to perform routine household functions such as pet care, organization of school supplies and clothes, etc. during the time the family is away. Usually the nanny has some flexibility during this time, but agreed upon tasks should be accomplished in the family's absence.
The nanny's vacation is important to her. Many nannies join other family members - spouses, siblings, parents - on annual holidays and it is the family's responsibility, again with reasonable agreed to notice, to arrange alternate childcare.
What about the part time nanny?
Holiday compensation for permanent part time nannies can be problematic. The industry rule of thumb is that the permanent part time worker (not to be confused with seasonal or temporary nannies) should be paid for any holiday that falls on their normal work day (July 4th again as an example) and any agreed upon PTO should be compensated according to their regular schedule. A 25 hour per week nanny, for example, would receive 25 hours pay on a week's vacation.
Additional summer nanny duties?
Many nannies care for a preschool aged child during the day while an older sibling is in full time school. What happens when school is out for 3 months? The routines and activities of an 8 year old are vastly different than those of the 2 year old sibling.
Some families arrange at least some weeks of camp for the older child. Will nanny be obliged to drive the child to/from camp? Whose vehicle is used? If the nanny's vehicle, how is this compensated? How does this impact the younger child's routines such as nap time?
Other families may implement a temporary wage increase to reflect the added responsibilities for the school aged child during the summer months.
As always, good communication between nanny and employer goes a long way to alleviate these nagging questions. A written work agreement, without a doubt, is the best tool to keep everyone in agreement on scheduled work and compensation matters.
Looking for more information on writing a nanny work agreement and defining compensation issues?