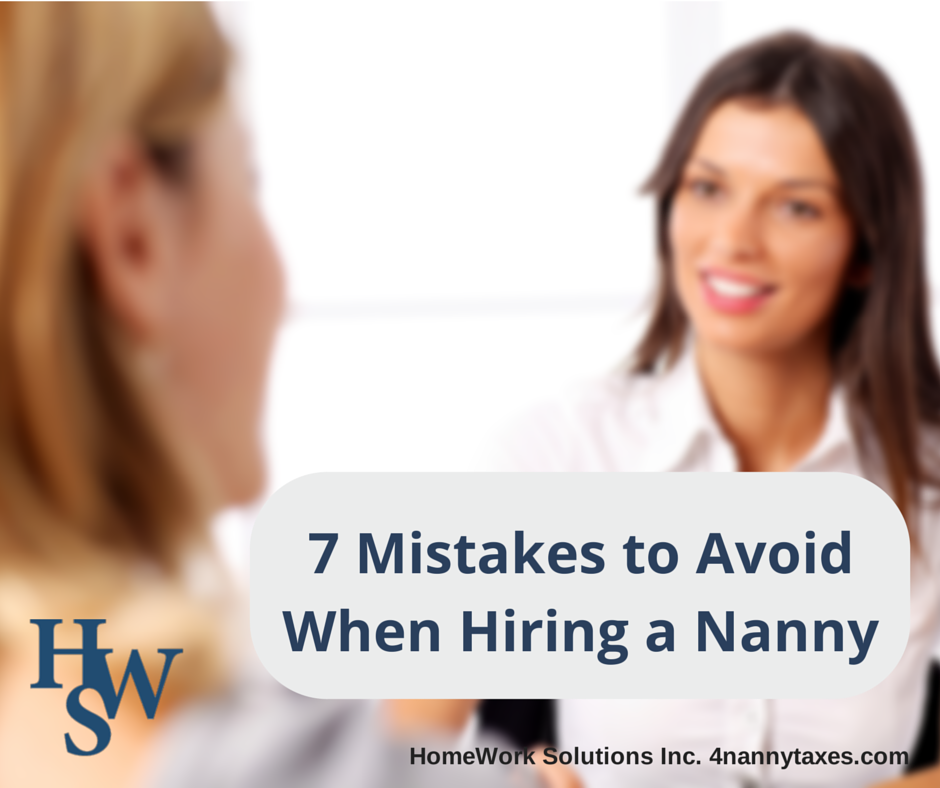 New parents often envision that hiring a nanny will be the magic bullet that solves their childcare challenges. Hiring the nanny itself, however, is an activity fraught with worry, stress, and the fear of actually hiring the wrong nanny. Here we offer parents a short list of common mistakes families make when hiring a nanny, and tips to avoid them. Let HWS help you make your experience hiring a nanny simpler and worry free.
1. Job description? What nanny job description?
When hiring a nanny, the nanny is looking to understand the scope of duties you expect. No two nanny jobs are the same, and not all nanny applicants have the skills or interest to properly address what your family expects.
Take the time to brainstorm and write up a basic nanny job description that meets your family's needs. Consider breaking this up into three basic categories: childcare, family support, and housework. As you might imagine, most applicants for a nanny job are primarily focused on childcare, while you may be looking holistically at the full range of duties you want or need for your family's wellbeing.
2. Unrealistic expectations, particularly surrounding housework...
A nanny's primary duties should always revolve around childcare. It is not unreasonable to expect a nanny to leave her work environment (your home) in the condition in which she found it. Many nannies expect, and don't mind, engaging in household upkeep in the areas used by the nanny and your child. Sweeping or mopping up the kitchen after meals in the high chair, vacuuming up after a craft activity, laundering the child's clothes and wiping down cabinets and doors are generally part of the nanny's expected scope of duties. Full charge housekeeping, including changinging linens, dusting and vacuuming the entire home, and picking up after the other adults in the home is not typical. Adding these tasks to the nanny's job description both limits the candidates who are interested in the position, and can focus the nanny more on the care of your home than on the care and development of your child.
3. Pay offered is out of step with the local market.
Hiring a nanny is expensive. A full time nanny is working to support herself, including the cost of her housing, transportation and food. If you offer below market compensation you not only make it harder to staff the position, but you will be frustrated by frequent turnover as the nanny leaves for a better paying position. If the local market wage is outside your budget, you may consider a nanny share.
4. Unwilling to pay legally.
A nanny becomes your employee, and as an employer you have legal obligations for payroll taxes and insurance. Before hiring a nanny, do some research to understand your obligations and the costs involved. Our free Household Employer's Payroll Tax Guide is a great place to start. If you would like to chat with a real person, HWS' household payroll and employment tax specialists are available at 800.626.4829 for a free telephone consultation.
5. Hiring a Nanny without a Written Work Agreement
A well crafted nanny work agreement will spell out all the terms and conditions of the employment relationship, including hours, duties, benefits, and compensation. When one fails to get the details down in writing, conflict over differing memories of what was promised is inevitable. Learn more about hiring a nanny with a work agreement.
6. Interviews that Fail to Probe Adequately
When hiring a nanny, behavioral interviewing is the gold standard. Behavioral interviewing is based on the premise that the most accurate predictor of a nanny's future performance is the nanny's past performance in a similar situation. You conduct the behavioral interview AFTER confirmation of job basics such as schedule, general duties and skills required, salary range offered, and candidate availability.
Unlike traditional interviews, which request information such as prior child care jobs or ages of children previously cared for, behavioral interviewing emphasizes past performance and behaviors. Agencies that employ behavioral interviewing have predetermined the skill sets they believe are vital to success in the nanny position.
7. Inadequate Background Screening
When hiring a nanny, a family has to perform careful screening. This not only thorough interviewing, but also includes reference checking and a criminal background check.

References should be verified in much the same way as the nanny is interviewed. Do verify the basics - dates of employment, number of children cared for, and the reason for separation. Additionally, ask open ended questions, and listen for the response. Inquire about the scope of the nanny's responsibilities, ask the former employer what the candidate's strengths and weaknesses are, and ask about specifics that matter to you.
Do order a thorough pre-employment background check. A clean background check simply means that the candidate has never been caught and convicted of anything. It is important, don't skip this, but do rely more heavily on the interview and references for the decision making.