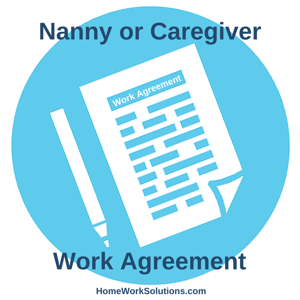 The work agreement (sometimes called a contract) you negotiate with your nanny, housekeeper, or elder care provider sets the professional tone of the work relationship right from the start. A carefully thought out work agreement will help the employer avoid future problems and misunderstandings with the employee.
Hourly Pay Rate
Household employees are paid hourly by law. Realistically, most families agree with their nanny or senior caregiver on a weekly or daily pay rate. That is perfectly fine - so long as you do the necessary translation to state this, in writing, as an hourly pay rate.
Why is this important? Your household employee is entitled to overtime pay when they work more than 40 hours in a week. Most nannies and eldercare providers work more than 40 hours weekly. In a dispute, the weekly salary you agreed to will be presumed to cover 40 hours of work - even though you intend it to cover 45 or more. Getting this detail down in writing will avoid unpaid wage claims and create the foundation for computing extra wages for those occasional times when you need your household employee for more than her standard hours.

HWS Tool: Hourly Rate Calculator
Confidentiality Clause - Not Just for Celebrities!
Household workers are employed in your private home. They become privy to many personal aspects of your life, health, and household that you would prefer remain private. A confidentiality clause in the work agreement simply makes sense and provides an opening for you to have a frank discussion with your employee about respecting each other's privacy and keeping private matters confidential.
Tenancy Clause
Everyone has heard the story of the nightmare nanny on the news - the California nanny who refused to move out of her employer's home after she was fired. If you have a live-in household worker, a tenancy clause is important protection from this dreadful (albeit rare) occurance.

HWS Tool: Sample Work Agreement Template