Massachusetts' Domestic Workers' Bill of Rights (DWBR), S.2132, passed the MA Senate on May 8, the MA State House on June 18, and signed into law by Gov. Duval Patrick on July 2, 2014. The bill goes into effect April 2015.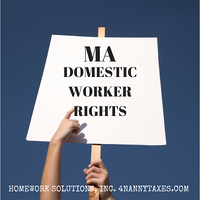 The MA DWBR is largely modeled after similar laws in California, New York and Hawaii. It expands upon the other states' laws by including job protection for maternity leave and defined notice of termination. It will guarantee a nanny, housekeeper or senior caregiver in Massachusetts:
Day of Rest: Domestic workers must have a minimum of 24 hours free from duty in every 7 day work week, and at least 48 consecutive hours off once per month. A nanny, housekeeper or senior caregiver may agree to waive their day of rest, however this agreement must be in writing.
Sick Pay: Massachusetts domestic workers will earn 1 hour of sick pay for every 30 hours worked, to a maximum 40 hours per year.
Paid Time Off: A nanny or senior caregiver, after one year of service, or 1250 hours of work with an employer, whichever comes sooner, will earn 5 days of paid time off. An additional day of paid time off is added after every three months of full-time work or after every 310 hours of work, whichever comes sooner.
Sleep Time: Consistent with federal law, a domestic service worker who is required to be on duty for more than 24 consecutive hours may agree with the employer in writing to exclude up to 8 hours of bona fide sleep time from their compensable hours.
Notice of Termination: For a nanny or senior caregiver who lives in the employer's residence, the employer must provide either 30 days advance notice of termination or 2 week's severance pay in lieu of notice. "Neither notice nor a severance payment shall be required in cases involving good faith allegations that are made in writing with reasonable basis and belief and without reckless disregard or willful ignorance of the truth that the domestic worker has abused, neglected or caused any other harmful conduct against the employer, members of the employer's family or individuals residing in the employer's home."
Limits on Deductions for Food, Beverages and Lodging: The bill strictly defines and limits the terms and conditions under which a domestic employer may make deductions from a domestic worker's pay for food, beverages and lodging. These deductions must be agreed to in writing and may not exceed the actual cost of the food, beverages or lodging to the employer.
Written Work Agreement: When a domestic worker is employed 16 or more hours per week, the employer must provide a written agreement to the worker that defines "(i) the rate of pay, including overtime and additional compensation for added duties or multilingual skills; (ii) working hours, including meal breaks and other time off; (iii) if applicable, the provisions for days of rest, sick days, vacation days, personal days, holidays, transportation, health insurance, severance, yearly raises and, whether or not earned, vacation days, personal days, holidays, severance, transportation costs and if health insurance costs are paid or reimbursed; (iv) any fees or other costs, including costs for meals and lodging; (v) the responsibilities associated with the job; (vi) the process for raising and addressing grievances and additional compensation if new duties are added; (vii) the right to collect workers' compensation if injured; (viii) the circumstances under which the employer will enter the domestic worker's designated living space on the employer's premises; (ix) the required notice of employment termination by either party; and (x) any other rights or benefits afforded to the domestic worker. Failure to comply with this paragraph shall constitute a violation of paragraph (3) of section 19 of chapter 151."
Job protection for maternity and adoption leave.
The MA DWBR also expressly codifies in state law several domestic worker rights and domestic employer obligations addressed in the Federal Fair Labor Standards Act (FLSA). The FLSA already covers all Massachusetts domestic service workers such as a nanny, housekeeper or senior caregiver. That means domestic workers in Massachusetts do not need to wait for the MA DWBR to become effective to have these protections. These include:
Overtime

: A domestic worker who does not live with the employer must be paid overtime of no less than 1.5 times the regular hourly rate of pay for all hours on duty over 40 in a work week. This includes meal and rest breaks when the worker is required to remain on the premises.

Employer Recordkeeping

: Employers must maintain accurate and contemporaneous records of hours worked, the rate of pay, and the calculations of all wages and deductions.
Household employers in Massachusetts have until April 2015 to complete the necessary paperwork and insure that their employment arrangement meets the minimum requirements of the MA DWBR.
---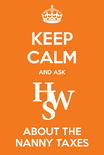 Go Ahead! Simplify with HomeWork Solutions!
HomeWork Solutions simplifies the "nanny taxes" and household payroll for thousands of families nationwide. We love talking with our clients and other families - for more than 20 years we have provided free telephone consultations.
800.626.4829
Call Us Today!