The Bracamonte family and their former "nanny" Diane Stretton put the term "Nightmare Nanny" into our vocabulary this summer. The Bracamonte family "hired" Ms. Stretton to care for their children in exchange for room and board, and when the relationship fell apart Stretton refused to move out. That is when the Bracamonte's nightmare nanny story began.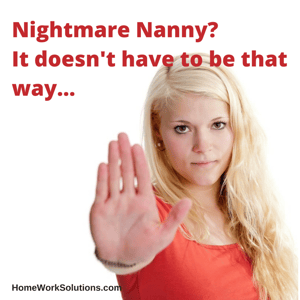 This scenario is so rare and so frightening it became a cause celebre on the news, including such prime-time shows as ABC's 20/20. So exactly what went wrong and how do you avoid this risk when you hire live-in caregivers?
#1 - HIRE AN EMPLOYEE. DON'T EXCHANGE LODGING FOR SERVICES!
An employee is paid a wage for work performed. Household employees such as a nanny or senior caregiver are entitled to some basic labor protections such as pay at no less than the hourly minimum wage, unemployment coverage, and workers' compensation protections. The nanny or caregiver may be provided room and board, but it must be contingent on continued employment (a lawyer can help you here!). The Bucamonte family essentially rented a room to Stretton in exchange for some childcare - establishing a tenancy arrangement that had nothing to do with employment. Stretton paid her rent with childcare.
#2 - A SOLID, WRITTEN WORK AGREEMENT IS ESSENTIAL.
Household employment experts all agree, a written work agreement between the family and the nanny or caregiver is a best practice. This memoralizes the employment agreement, including compensation, benefits (lodging and meals) and other factors that establish the relationship between the employer and the worker. A properly written work agreement (and legal pay) would have precluded Stretton from claiming tenant rights. Tenancy laws vary by state - consult a legal expert in your state for help if you don't feel comfortable going it alone in this area.
#3 - PROPER BACKGROUND SCREENING WILL RAISE RED FLAGS!
Any familiy who is hiring a nanny or caregiver to care for their vunerable family members - whether they be children or seniors - must do thorough pre-employment screening of anyone they wish to hire. All too often a family will 'follow their gut' based on an interview and neglect this important part of the hiring process. Minimum screening should include:
SSN Trace to verify applicant identity
Verification of address history
Criminial records trace using all names used in the prior 7 years
Sex Offender Registry screen
National Criminal Records Locator service screen
Driving records check (optional)
Civil records check (optional)
Drug screening (optional)
The news media was quickly able to find detailed records of prior civil court cases involving Stretton - the Bracamonte family could have learned about this in advance too.
#4 - REFERENCE CHECKS SHOULD NEVER BE OVERLOOKED!
Checking an applicant's references can be a tedious process, and families are often in a hurry to staff that caregiving vacancy. No matter how rushed the process, how urgent the need, DO NOT hire a nanny or caregiver without having a detailed conversation with their references, particularly former employers. Keep calling, texting, emailing until you can talk to the reference. A former employer who will not make themselves available for even a brief phone call may be avoiding a situation where they are asked questions they prefer not to answer.
DO YOU HAVE MORE SAFE HIRING TIPS FOR READERS? SHARE BELOW!