School is out, and families nationwide are turning to summer nannies to provide safe, individualized caregiving for their young children over the summer holidays.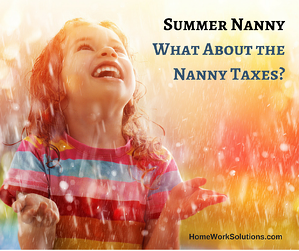 Most summer nannies will earn enough over the summer to obligate the family for payroll tax payments and reporting - the so-called "nanny taxes."
HomeWork Solutions is here to help! We will cheerfully prorate our summer nanny payroll or payroll tax-only service fees so you only pay for the services you need. You have a short-term need for services for a short term summer nanny and HWS can make this both easy and affordable.
What you need to know:
If you pay your summer nanny $1900 or more, you are subject to the "nanny taxes"
If you privately hired your summer nanny, a nanny background check is a recommended practice
Workers' Compensation Insurance may be legally required - HWS can help, our preferred vendor will issue this insurance for our clients with no application fee
Your summer nanny is due a W-2 form in January 2015, be sure you have a permanent address
HWS' nanny payroll specialists are available to answer your questions, provide you guidance, and help you estimate your payroll tax expense and your employee withholding. Best of all, this is a free telephone consultation! Call 800.626.4829 today.
Outsourced summer nanny payroll ... important peace of mind for your family!
| | |
| --- | --- |
| | Free gift! Download our ABC Nanny Hiring Guide today! |