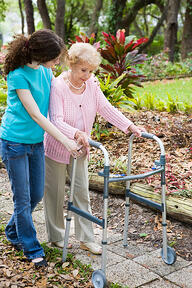 I spoke to a prospective client today on the phone. She just hired a senior caregiver - a woman she calls "Mom's helper" - to come in daily to assist her mother around the house. Her mother has had a series of falls recently, none serious, and needs basic help and companionship at home during the day while her daughter is working. As a sandwich generation daughter of a mother with similar issues with aging, I completely understood why she took this step and the challenges she faces trying to balance her Mom's needs and her own professional and economic needs.
The senior caregiver used to work for a big national senior care chain, one that advertises on TV all the time, and she is accustomed to regular payroll. My caller never thought of payroll taxes until the caregiver questioned her when she was written her first "paycheck." Like many of our callers, she was looking for a way out, a way that she could feel justified in treating Mom's helper as an independent contractor.
The reality is that the caregiver IS an employee. Employee's receive instruction or direction on the job, the employer has the right to tell them what to do, how to do it, when to do it. The caregiver also is paid a wage - she has no opportunity for profit or loss. My caller can also discharge or fire the caregiver for an reason, or no reason at all, without penalty.
I explained to the daughter that this is not ALL negative! No one likes paying taxes or the paperwork of course, but there are some particular benefits to the family here. Unemployment insurance is a big protection for the family and the caregiver. Should the caller's Mom need to transition to more managed care in a facility and no longer need her helper, the worker can file for unemployment benefits. I reminded my caller that these transitions often come with little or no warning - a fall or serious illness can change mom's care needs overnight. I also encouraged the daughter to quickly obtain Workers' Compensation insurance (HWS has a partner who works with our clients on this!). There is a real risk that the caregiver could actually become injured 'helping' Mom, and this is important protection of the daughter's assets should there be an un-insured workers' compensation claim.
My caller enrolled for HWS' NaniPay full payroll service - and completely outsourced the bi-weekly payroll and all tax filing and remittance to us. At the end of the call she remarked that she had been so worried about how to proceed and was so grateful that HWS took the time to counsel her, guide her and point out the relatively easy steps she could take to protect herself and Mom's helper. This client can now focus on what is important to her - the well-being of her mother and helping her realize her desire to age in her own home safely and well cared for.
Hiring elder care is complicated enough balancing the wishes of the aging parents and the risks and responsibilities of becoming a household employer. HWS understands the dynamic. Do you have questions about senior care and aging in place? Call HWS - we are happy to offer you a free telephone consultation.
800.626.4829
Other Resources:
Employee v Independent Contractor Wizard