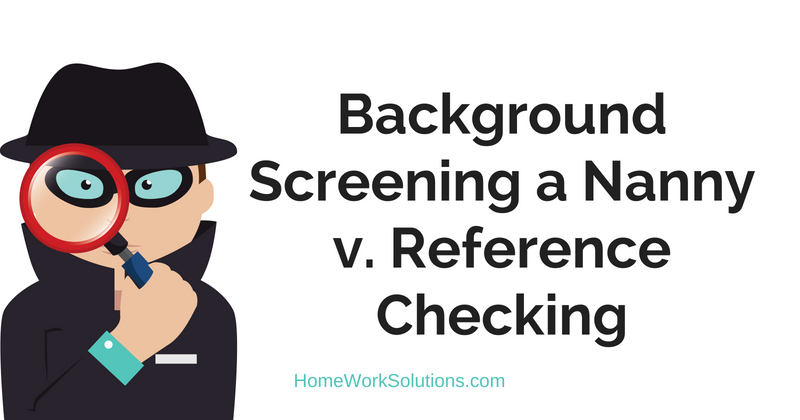 Background screenings and reference checks are important parts of the hiring process. Which one do you need? As experts in the nanny field, we recommend that you do both. Here are the differences between the two and why it's critical to get both done before you hire anyone to work inside your home.
Background Checks:
Caregiver background checks are a key part of the hiring process, no matter what kind of employee you're looking to hire. These screenings will look at the history of a potential employee and will include items that a former employer wouldn't know about. A background check will provide valuable information about a person's criminal history, which is something that is imperative that you know before you allow them to enter your home and work with a beloved family member. A driving record check will give insight into the candidate's judgment and safety behind the wheel, critical if the nanny will be driving your child. The Social Security Number trace will help verify where the candidate has lived in the past, and other names that the candidate may have been known by. Because criminal records are recorded under NAMES, it is important to know all possible names to check under.
Reference Checks:
Reference checks with previous employers are very helpful, as it will provide a good indicator of what you can expect from this person if you choose to hire them. It can be predictive of the future, meaning you can get information about important details such as punctuality, attendance, quality of care for children, and how well they communicated with the former employer.
When it comes to hiring someone to care for your child, it is critical to do as much research as possible. Go through a complete interview process, reference check, and get a background check. If there are red flags, listen to those and do as much research as you can to figure out what they mean.
Then, once you have found the right fit for your family, be sure to write up an employment contract that will work for the duration of your nanny's employment with you. The contract should include wage and payment information and schedules, a description of the vacation policy, a termination clause, and a detailed description of her job duties. If there are other items that are specific to her employment with you, outline them in detail in the contract, so everyone is on the same page. A nanny work agreement document is important for both you as the employer and your nanny, in case there is any confusion about the job later down the road.
If you've never had a household employee before and you're not sure where to begin regarding background checks, how to accurately check references, or you need details on how to write a nanny agreement, contact our team today of specialists today.
Resources
Reference Checking: A Nanny Agency Perspective