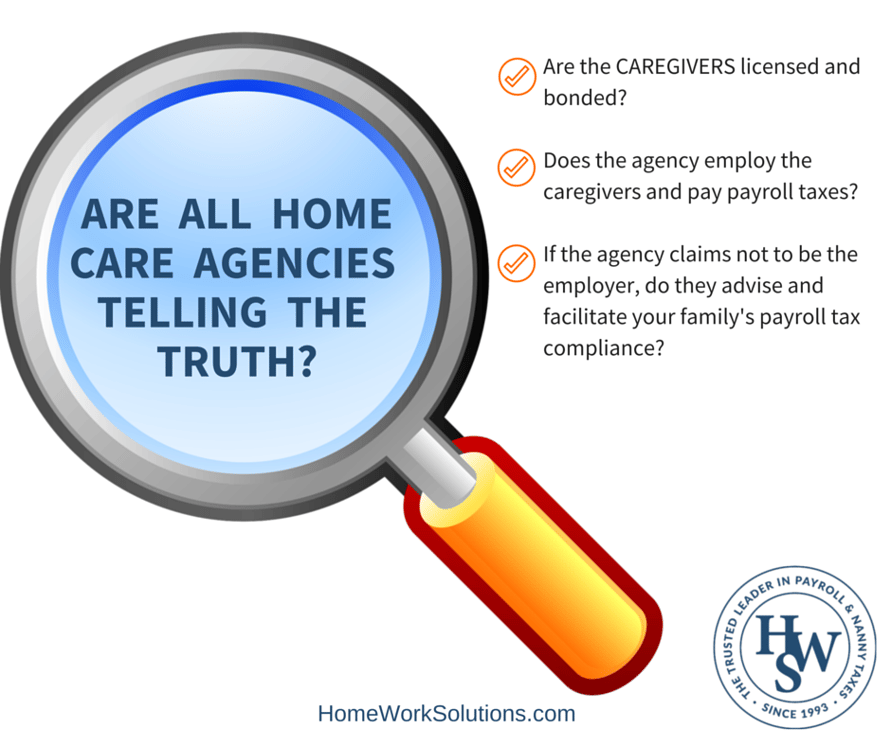 Starting in-home care for your loved one is a big decision. It requires careful planning, a close look at the budget, and significant research on what agencies and caretakers are available. Selecting the type of agency that's right for you and your loved one is one of the biggest choices you will make and it can be overwhelming at first. Here are some helpful tips that can help make things a little bit easier.
Tip #1: Do your research on each agency in great detail.
Investigating each agency in detail is incredibly important. Find out as much information as you can about each agency and don't be afraid to ask a lot of questions. For example, be sure to find out if the agency's caregivers are their employees. If they are not, then you will be considered the employer and you will be responsible for paying all employee-related taxes including Medicare, social security, federal and state payroll tax, etc.
Tip #2: Find out of the caregivers are bonded and insured.
When doing your research, be sure that the caregivers are bonded and insured – all of them. Insured means that the agency has a liability policy that offers protection to the caregivers if they're accused of wrongdoing and are sued. Bonded means you are protected against theft.
Tip #3: Make sure that the caregivers are actual employees of the company.
Some agencies choose to use caregivers that they label "independent contractors." Oftentimes, the brochures will advertise caregivers are part of their staff, when in fact, they are not direct employees of the company. It has been common practice for some agencies to deliberately cloud this issue, which means they have a financial advantage over agencies that have caregivers on the payroll. This leaves out pertinent information for families that are looking for quality caregivers. As "independent contractors," the agency cannot control their work, including hours or how they do their job. In fact, because YOUR family is typically paying the caregiver (either directly or through the agency's trust account), YOU are likely the caregiver's employer, liable for all payroll tax filings and workers compensation insurance!
Recently, the Homecare Association of America endorsed two federal bills that would help address how independent contractors are being misclassified. One law will require an agency to advise the patient, the patient's family or person acting on behalf of the patient, at the time of signing a services contract that the caregiver referred by the agency is not the caregivers employer and not under any obligations through the agency.
Tip #4: Ask the right questions.
When it comes to choosing an in-home employee or agency, don't be afraid to bring a list of questions with you. This is a big decision! Ask direct questions such as "does my caregiver have workman's compensation insurance and if so, can I see the policy?" Or, ask the company if they pay the caregiver's payroll taxes. In addition, do your research regarding positive and negative reviews about the agency and the caregivers associated with it. Nowadays, reviews are often left online and are easily accessible if you sit down and do some research. If you are having a hard time finding reviews online, ask the agency directly for information on this.
You have a lot of choices when it comes to choosing your in-home care. Take your time and focus on finding out as much information as you can about each agency before you decide which one is right for you and your family.
Other Resources
Managing Trustee Risks with a Private Caregiver
Consumer and Worker Risks from the Use of Nurse Registries and Independent Contractor Companies