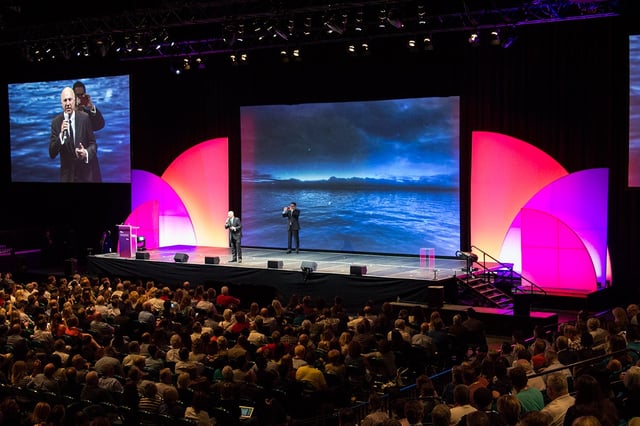 Tuesday morning at Engage 2017 kicked off with a business titan sharing advice to an arena full of people. Kevin O'Leary (Mr. Wonderful on Shark Tank) took the stage and shared with us lessons from his business and personal life. His advice revolved around creating and building successful businesses, something he clearly knows a lot about. This ended up being a theme for the week, focusing on your firm as a business and how to grow it into the future.
Mr. O'Leary started at the beginning by talking about how customer acquisition is the biggest cost faced by a new or growing business. It makes sense if you think about how much money you spend on retaining clients versus attracting new ones. Even referrals carry with them the cost of serving a client well enough and long enough to give you that referral. According to Mr. O'Leary, customer acquisition is one of the leading factors that cause a new business to fail. He further illustrated this by sharing an experiment he did on his show. He took an unknown company in a highly saturated market and tracked what happened after the show. Long story short he invested in a cupcake company and their revenue went up several hundred percent in the months after the show. This is likely because of the exposure of being on the show and getting tens of thousands of new customers with the little comparative cost of appearing on the show.
Another interesting observation was that companies headed by women usually paid better returns. Mr. O'Leary remarked that he likes investing in women led companies for two main reasons. Looking at aggregated data from his holdings and conversations with the heads of every company in his portfolio, he realized that women are better at time allocation and setting effective, achievable goals. He did however stop at the data, avoiding speculating as to why this may be the case.
Next he brought up his three main takeaways for running a successful business;
Be able to articulate the opportunity you provide in 90 seconds or less.
Be able to explain why you or your team is the best.
Know your numbers and business model.
These three pieces of advice can apply to a CPA firm in a couple ways. If you are looking to retire or switch focus and want to sell your firm you need to be able to pitch it. Any firm in the position to purchase yours will likely already do what you do. Therefore you will need to know what differentiates you and why the other firm would want to make the investment. If you're trying to sell to one of the big four, for instance, you will certainly need to be able to follow number one. Knowing your numbers and business model will help you accurately value your firm and ensure you get a fair price.

For a more client facing example think about conversations you have with prospects. A new client wants to know what you can do for them and that you have trustworthy, credible people. You want to make sure that the potential client will fit into your business model and that you have a reasonable profit margin for what they want. If you are reading this now and can't fulfill those three tasks, you just found an action item from this post!

The last bit of advice given was about being an effective manager. As a firm owner or principal you need to be able to lead. According to Mr. O'Leary a good manager should establish a clear command structure, be accessible, be able to delegate, possess strong time management skills, know that service is paramount, be willing to invest in technology to improve productivity, and know that business is war.

HomeWork Solutions has specialized in household payroll for more than 24 years. We work with CPAs all over the country to help them streamline their schedule H compliance while continuing to provide their clients with white glove service. Check out our partner page to see how we can help you increase productivity.