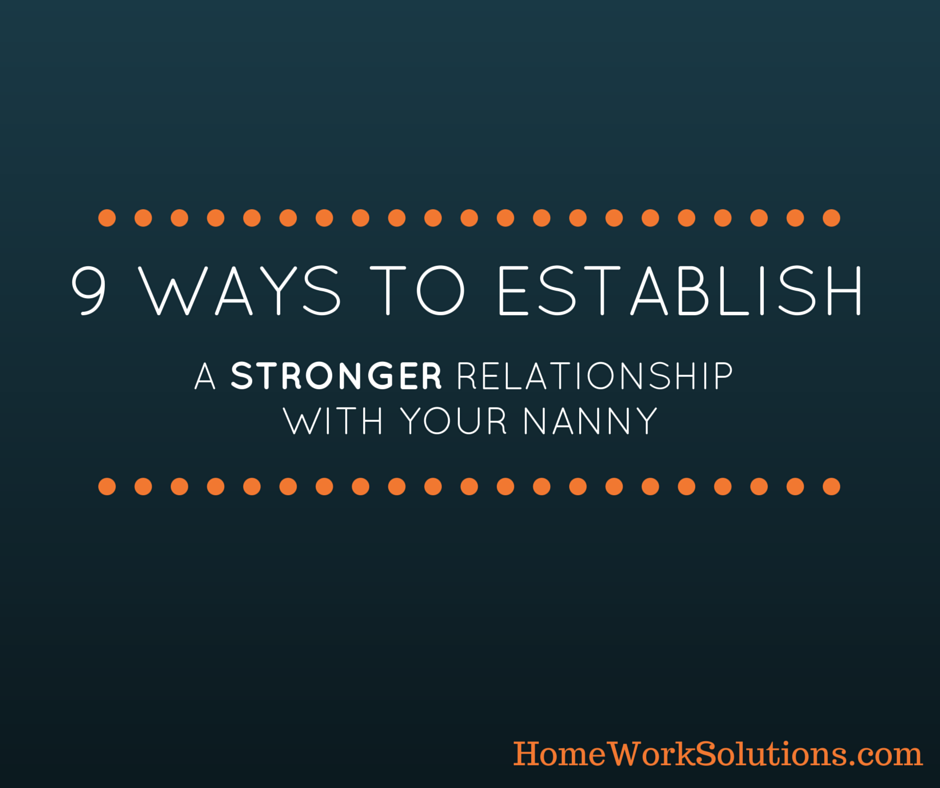 Finding the perfect nanny can feel like finding a needle in a haystack, which makes it all the more important that you hang on to her once you find her! HomeWork Solutions wants your nanny experience to be as smooth as possible, so we've outlined nine of our favorite suggestions to establish a strong relationship with your nanny.
1. Put your nanny's work agreement in writing. This "industry best practice" will not only help clarify your expectations, but can also be a lifesaver should a disagreement ever arise.
2. Hold up your end of the agreement. Interpret this as you will, but in my family it means we come home on time (and always call ahead if we can't help being late). It also means we respect our nanny's time off by scheduling our vacations far in advance, and paying her for days she would have worked if we weren't on vacation (example: 4th of July).
3. Have biweekly or weekly meetings to discuss how things are going. Making the time to meet with your nanny regularly gives everyone the platform to suggest new ideas and discuss any issues.
4. Discuss issues as they arise. If something is bothering you, bring it up right away, before it has time to stew and get worse. The nanny will appreciate it as long as you address the issue sensitively. On the flip side, don't wait to tell the nanny she's doing something right!
5. Avoid micromanaging. Experienced nannies are often very knowledgeable about child development, and generally know how to do their jobs. In the beginning, nannies may ask for direction, but after the adjustment period, it's best to show the nanny you trust her judgment and allow her to do her job.
6. Round up on paychecks and pay overtime wages. As non-exempt employees, nannies are entitled to overtime pay equal to 1.5x their regular hourly pay for any hours worked in excess of a forty hour week.
7. Show her that you and your kids care about her. I once gave my nanny a birthday card that the whole family signed, and included a picture of her with my kids smiling in the backyard. She gave me such a big hug! Then, for the holidays, she gave each of my children a framed picture of them with the words "Friends 4Ever" written on it.
8. Express gratitude for a job well done. A reasonable bonus around the holidays goes a long way in making a nanny feel appreciated.
9. Never pay her under the table. While withholding taxes from your nanny's paycheck requires organization and planning, everyone will benefit. The employer avoids nanny tax fraud and the nanny is protected in case of future unemployment.