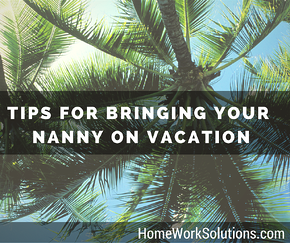 Summer is coming, and with it, some much-needed vacation time! However, traveling with kids can sometimes be such a challenge that you need a vacation from your vacation. Well, there's an easy solution that keeps the kids happy and allows the "big kids" the freedom to enjoy family time without being bound to "babysitter duty": bring your nanny on vacation!
Having a nanny on vacation gives you the flexibility to enjoy your vacation spot at an adult pace, while enjoying the peace of mind that comes from knowing your kids are well cared-for and enjoying themselves.
Setting ground rules and expectations is especially important to having a successful and relaxing vacation with your nanny. Here are four of what we have found to be the most important tips for bringing your nanny on vacation.
Set a work schedule in advance
Lay out a workable schedule that you and your nanny can agree on. It's vacation, so it's expected that the schedule will be slightly different than it would be from home; however, any hours worked in excess of a normal work day should be compensated, including overtime.
Don't forget to work some down time into the nanny's schedule. Travel can be stressful and exhausting (especially with kids!) so it's important to give everyone some time to recuperate.
Avoid unnecessary friction by writing the expected work hours for each day on a calendar before embarking on your trip, and then track the actual hours worked on the same calendar.
Plan for the added expenses
Some of the potential expenses will be travel, hotel, meals, activities, etc.
Some families negotiate a per diem with their nanny to compensate her for the added expenses and of traveling. You might choose to increase the hourly wage or simply offer an extra $50 per day.
When the nanny is required to be vacationing (whether 'on duty' or not) on her regular scheduled days off, consider offering a flat $100 - $200 per day for this inconvenience.
If you nanny needs to board a pet for this vacation, you should pick up those costs.
The nanny will probably have extra expenses while traveling, such as phone calls home, internet connection expenses, and even ATM fees.
Compensation
The best advice we can give is to lay out everything with your nanny in advance. Also, while your schedule may be different on vacation, try to maintain the established method and schedule of payment. If you have set up direct deposit, this is effortless!
Be mindful that your vacation is work for the nanny.
Even if your child is sleeping when you and your partner go out for dinner and a play, if the nanny has to remain with the child, this is working time.
Don't forget the overtime.
Related Links: