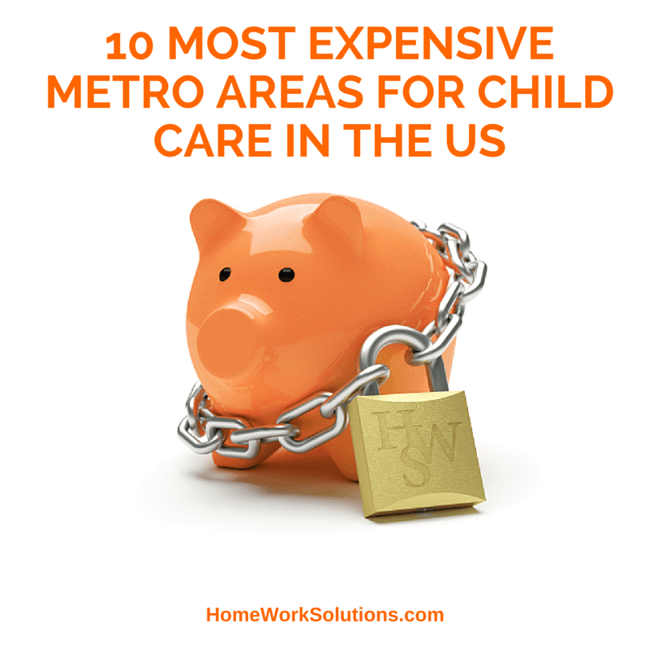 Having kids can get incredibly expensive, and paying for quality childcare is one of those expenses. However, as you might expect, the cost of living varies greatly from state to state and in some cities in the United State, childcare is significantly more costly. Data that was released recently by the Economic Policy Institute looked at more than 600 metropolitan areas in the country and included in a variety of factors in the findings including transportation, food costs, childcare, and housing. The results showed that childcare is usually the most expensive line item for parents raising little ones. Here are the 10 most expensive metro areas for childcare in the United States.
"The old adage that you get what you pay for holds true when hiring someone to take care of your child or children. I always advise parents to go to their local nanny agencies for assistance in identifying quality, vetted childcare for their families," says Barbara Kline from White House Nannies. This is true and sometimes the most qualified candidates that have the most experience will cost more on an hourly or yearly basis. In high cost areas, a quality nanny will command $14 - $20 per hour. Not sure where to start? Susan Fox of Park Slope Parents recommends, "Carefully screening potential caregivers, having a trial period, and a 'gut feel' are the most important things related to finding a good fit for your family."
10. Danbury, Connecticut
Housing costs, high childcare prices, and hefty taxes are part of living in this city. It will cost a family of four about $89,000 a year to live.
9. San Francisco, California
Most people know that housing prices here are some of the most expensive in the country, a family of 4 needs $91,785 a year and childcare costs are an average of $10,815 a year.
8. Ithaca, New York
It's a beautiful college town, but has high taxes and rent. It costs a family of four over $92,000 a year just to get by.
7. Poughkeepsie-Newburgh-Middletown, New York
Just like Ithaca, it costs more than $92,000 a year for a family of four to pay the bills and live a simple lifestyle in these towns.
6. Honolulu, Hawaii
It is beautiful and for many families looking to live an active, outdoor lifestyle, Hawaii is a wonderful option. But, it doesn't come cheap! A family of four needs at least $94,000 to live here, with food prices averaging over $11,000 a year.
5. Stamford-Norwalk, Connecticut
Housing prices will cost the average family over $22,000 a year and the average family will need about $97,000 a year to get by.
4. New York City
It is a hustling and bustling city that provides children with opportunities that many people can only dream of. However, it is an incredibly expensive part of the country to live, requiring a family of four to bring in nearly $99,000 to pay basic bills.
3. Westchester County, New York
This suburban area that is outside of the Manhattan epicenter will require most families to bring in close to $100,000 a year to pay the bills.
2. Nassau-Suffolk, New York
Long Island is a great place to raise kids, but it is the second most expensive place in the United States to do so. Housing is incredibly expensive and in addition to taxes and other basic life necessities, families will need to earn over $103,000 a year.
1. Washington, D.C.
Working parents need to make more than $106,000 year to live here and childcare usually costs an average of $31,000 a year, making it the highest in the country.
Looking to save money on childcare? There are sometimes childcare tax credits that can save a family money at the end of the year, but Susan Fox recommends another simple way to keep some extra money in your pocket. "Mapping out how much time off you'll be taking before you hire someone can be one way to save money." If you're not able to find a nanny or childcare provider quickly, this could mean more time off of work and lost wages. One way to speed up the process is to work with an agency that can match your family's needs to an outstanding nanny can help save you time.
International Nanny Association 2014 Salary and Benefits Survey