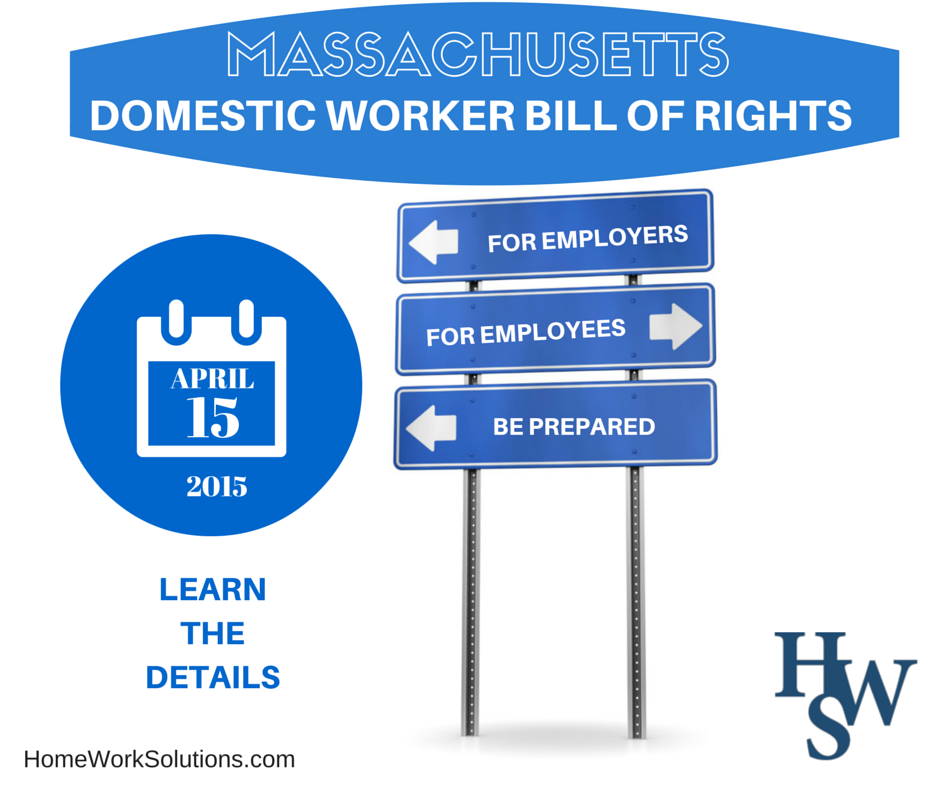 On April 1, 2015, Massachusetts will become the fourth state (after NY, CA and HI) to enact a Domestic Worker Bill of Rights (DWBR) that expands employment protections to domestic workers. All Massachusetts families who employ a nanny, senior caregiver, housekeeper or other "domestic service worker" will have new legal obligations. While many of the DWBR provisions simply reiterate that household employees are covered by existing state and federal law, the DWBR creates a number of new rights for household employees —and obligations for household employers. The DWBR specifies household employer —such recordkeeping and notice requirements, as well as limitations on when and how a live-in domestic worker may be terminated. The DWBR applies to all full time and part time household employees.
Who is Covered by the Massachusetts DWBR?
The DWBR applies to all families who employ a live in or live out, full time or part time domestic service worker. Domestic service workers includes nannies, senior caregivers, housekeepers, maids and other domestic workers who work in a private home and provide caregiving, housekeeping, household management, maid, and meal preparation services. . The law does not apply to any licensed or registered staffing, employment or placement agencies. "Domestic workers" are individuals who are paid to perform work of a domestic nature within a household, such as housekeeping, house cleaning, home management, nanny services, laundering, cooking, home companion services, and caretaking of individuals.