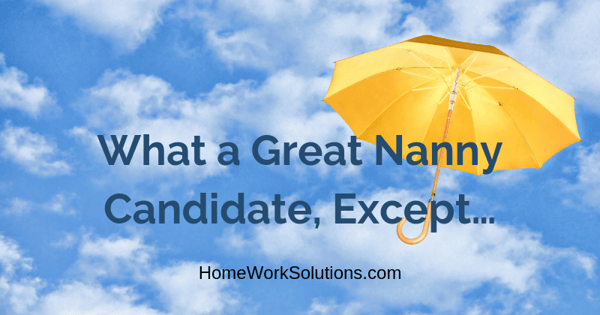 As much as we would like to be, it's a fact that human beings simply aren't perfect. Even Mary Poppins, the famous nanny that saves the day admits that she was only "practically" perfect. When it comes to search for the right nanny to work in your home, we understand that you're looking for someone as close to perfect as possible. Every agency has come across a great candidate that has a hiccup in work history. That means when you're learning more about that person and what they have to offer, the agency is left to decide if that one gap will spoil the whole peach. The good news is, it doesn't have to!
Even Mary Poppins admits that she was only "practically" perfect.
Different families have different things that are important to them and the perfect nanny for one family might not be the perfect fit for another. The same goes when you see an issue on a nanny's resume: what might be a non-starter for one family, might not be an issue at all for another.
The key: transparency.
Whether it is a former employer that does not provide a fair reference, missing work history, a transportation incident with a former family, or the fact that the nanny has worked in another field for an extended amount of time, these things can all be talked through. Ask the nanny candidate to explain and be transparent about the issue.
For example, suggest that she could write a letter to address the issue that can be included in the file. That way, when you present the candidate to a potential family, there is confidence in presenting the whole candidate, rather than a candidate that may bring confusion about background or qualifications. As an agency, it's important to do your job to highlight the nanny's strengths, so make sure to keep good records along the way and provide feedback when needed. This kind of transparency will earn the trust of each client and the devotion of caregivers.