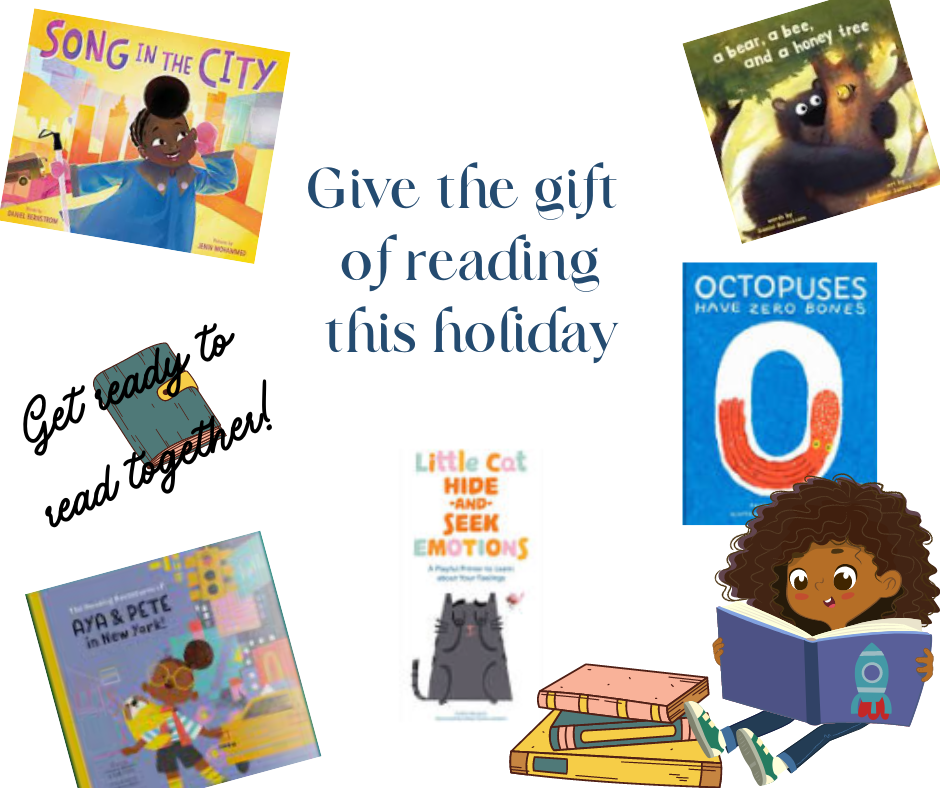 Kids will always love a new gadget, toy, or screen-based tech under the tree or as a stocking stuffer, but this year, don't forget to add an awesome picture book or two. Learning how to read and reading to your child is key to their language development, social awareness, and emotional intelligence. We have invited Ms. Nanny Monique Dupree to curate a short list of some of favorite stories that are excellent for the holiday gift-giving season and all year around.
Song in the City
By Daniel Bernstrom
A young girl travels along with her grandmother one Sunday morning on their way to church, and she's surrounded by her city's vibrant urban noise. A collection of loud banging, the tip-tap of shoes, cars honking, and wheels spinning create a tune that only she seems to hear. Even though she is unsighted, her sense of happiness and love help her share what she feels but can't see.
The Amazing Adventures of Aya & Pete
By Serena Minott
Inspired by the real life travels of the author and her daughter, follow big city mini-explorers Aya and her favorite stuffed animal, a sloth named Pete, as they traverse the world's biggest cities in this 3-book series. From the Empire State building in New York, to the Eiffel Tower in Paris, and even Big Ben in London, kids will learn about the food, language, and famous destinations that make these special places amongst the most visited locations in the world.
Little Cat Hide-and-Seek Emotions
By Audrey Bouquet
From the creators of the Big Emotions Book series comes an interactive, colorful, and mindful lesson book. This time, our favorite feline of feelings helps us identify others' moods as well as our own through expressions and body language. Happy, surprised, angry, or sad, the book gives helpful hints on how to encourage positive feelings and use calming activities to relax.
A bear, A bee, and A Honey Tree
By Daniel Bernstrom
The age-old tale of bear versus bee comes to a tumultuous battle for the sweet honey of a hive in a tall tree. The bear is cunning; the bee is busy, and becomes angry at the sight of a predator trying to invade his home. The sly bear is close to his prize when he wakes the sleeping giant inside–a swarm of the angry bee's court who will not back down from protecting the hive. It looks like the bear may have bitten off more than it can chew!
Octopuses Have Zero Bones: A Counting Book About Our Amazing World
By Anne Richardson
The title is a slight bit…misleading. Certainly, we do learn that the 8-legged mollusk's boneless body allows it to squeeze into even the tightest places, but there's so much more to discover, imagine, and count in this encyclopedia of ecological and geographical factoids. Did you know that a snowball is made up of about 6 million snowflakes? Or that the first animals evolved over 800 million years ago? While learning the power of the number 0, kids will learn amazingly cool details about the observable world at large.
About Monique DuPree
Also known as Nanny Miss Monique, Ms. Dupree is a celebrated advocate for early literacy and children's picture books. Her daily and weekly social media posts feature stories that encourage diversity, inclusion, representation, and mindfulness. Aside from promoting and reviewing new titles, she conducts one-on-one interviews with notable authors and illustrators, and collaborates with various publishers to give away books for schools, national contests, and local charities.
Nanny Miss Monique
"Your Bookshelf Should Reflect the World Around You"
www.linktree.com/nannymissmonique