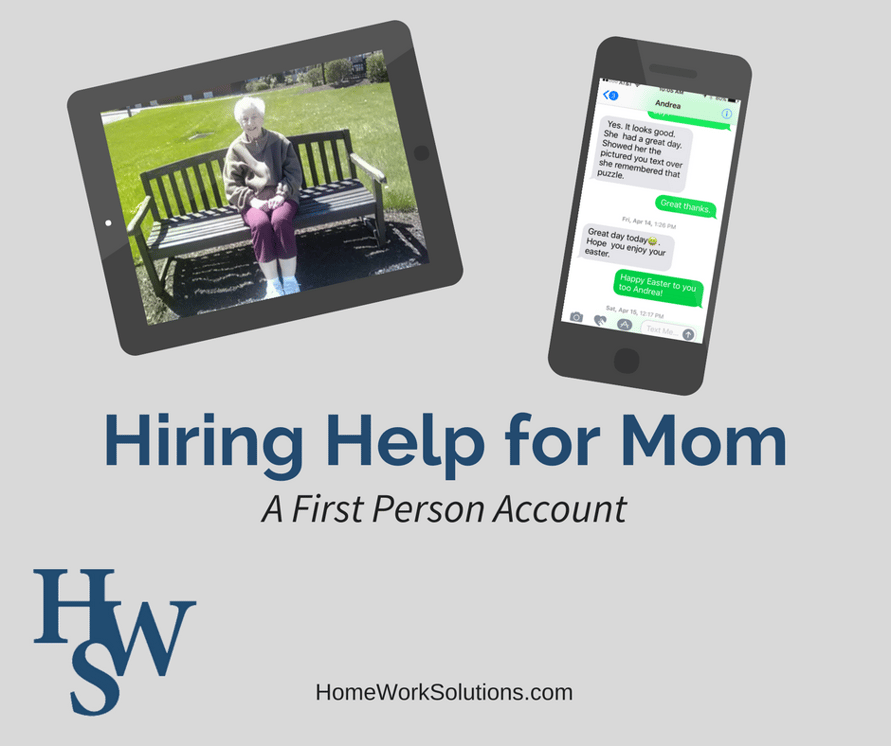 My mom is 87 years old. I am blessed to still have her in my life. You won't be surprised to learn that her health is not good. She suffers from dementia, and a host of other age related conditions. She is ambulatory and decidedly wants to stay in her apartment, and when the time comes die at home. She may not get her heart's desire, however my dad, siblings and I are determined to do all that is practical to make this happen. This is the rare post that I am writing in first person based on my own experiences, experience that when shared with friends are met with an amazing number of "Oh my gosh, me too!"
I have worked in the household employment industry for a quarter century. If anyone should know how to make this happen - helping mom to age in place - it should be me right? Let me tell you right now, this has been much more of a challenge than I ever imagined. Here are some lessons learned.
Choosing the Right Elder Caregiver
Dementia is a strange disease. At times you can chat with Mom and she seems herself. Other times she can have the reactions of a 3 year old, or simply be lost and confused. She talks about visits from family members who have been dead for 30 or 40 years - as if they visited yesterday. She loves passing the time working jigsaw puzzles, playing cards and watching her beloved Phillies.
Mom needs custodial care, which is essentially non-medical. For mom, a caregiver can't simply be a warm, pleasant individual. She needs caregivers who will share her interests, engage in conversations about the ball game, play a card game or read Ann Landers to her and discuss the predicament du jour. We need care 12 hours a day, 7 days a week. Dad is not young either and cannot physically or emotionally meet all of Mom's needs. We rotate 6 caregivers through various shifts during the week. Trust me when I say some don't work out, and it isn't always about them. It can actually be about Mom and her needs. Honestly, we don't always connect with everyone we meet - imagine an adult woman with the verbal filters of a 3 year old spending time in her apartment with someone that for whatever reason she doesn't like.
I've learned that prior experience, references, and availability on our schedule are important, but not the primary consideration. I've learned that Mom must like this person.
Details to Consider
Learn about tax and labor law considerations. Essentially you either directly hire, through referrals or registry, or you engage a senior care agency to staff the hours. If you use an agency they handle taxes, insurance, scheduling, background screening - all at a cost about 25% higher than a direct hire. If you pay the caregivers yourself, you or your loved one become an employer, and you become responsible for tax and labor law compliance.

LEARN MORE...

Dementia proof the home. Medications are a key consideration. We learned this in a way that could have been tragic. Dad would set out mom's meds and his own meds on the kitchen table at night for the next day. He used those little pill cups like they use in a hospital, and one was in front of his chair at the kitchen table, and one in front of Mom's. One morning he got up and Mom was already awake and working a puzzle. He went to the kitchen and all meds were gone! Mom had taken hers and his! We now keep the week's meds sorted in a pill dispenser kept out of Mom's reach, and the rest are locked in a tackle style box. Mom's caregivers supervise her taking her meds.
Wandering can be a problem. We installed door chimes on the apartment door - if it opens the chimes sound
Stay connected. Mom's caregivers text me a few times a week. They will proactively alert me to any situations, as well as give us a general check in.
SIMPLIFY! In our case Amazon Prime is our friend. Disposables like Depends, under pads for chairs and beds, wipes, gloves, and the like can be there pretty much on demand. My mom lives 150 miles away. My sister is local, as is my brother. Both work, and have their own schedules and considerations. Don't lean on local help for things you can address another way! Save them for the true emergency (trust me they happen)!
Keep a sense of humor. Mom naps every afternoon. I was sitting and chatting with Georgia, one of her caregivers, one afternoon while mom slept. From her bed, Mom began calling "Alabama? Alabama! I'm ready to get up!" I frowned and looked at Georgia to find her laughing. She said "Your Mom decided that was my name, and I just go with it!" At least she still has her geography straight, right?
Ask for Help!
Resources exist to help with just about every aspect of helping your loved one age and die safely at home. There is no shame in asking for help. If you want information on tax and legal implications for privately hiring a senior caregiver, call us at HomeWork Solutions. We have a team available to help educate you and make you aware of ways we can make this easier for you.
800.626.4829