Halloween is one of the best memory-making holidays for every child. Those costumes that took hours to put together turn into timeless photos, and the generosity of neighbors can leave your children with a sugar rush that lasts for days ...

This fun tradition can also have some hidden hazards. As parents, guardians and/or child care providers, it is our responsibility to ensure the safety and well being of our children. Please find below a list of safety tips and tricks to keep your child happy and safe this Halloween:
8 things to keep in mind: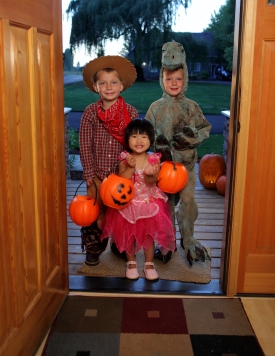 Talk to your children in advance and plan the route with them. Make sure parents and/or caregivers know where children are going to be and set a time for them to be home by. Younger children (12 and under) need to be accompanied by an adult at all times.

Have a conversation with your child and let them know how to proceed if a person makes them feel uncomfortable, scared, or tells them anything that feels inappropriate. They must leave the situation as quickly and safely as possible. Make sure they know to yell for help if they feel unsafe.

When your child is in costume and walking around in a group, things can get pretty loud. Some of the houses they visit may have pets that are not familiar with your kids, and all the commotion can make them anxious, or even dangerous –encourage your children to stay away from unfamiliar pets.

Walk on the sidewalk, if there is no sidewalk; always walk against traffic and pay attention to things around you. Always cross streets from the corners and look both ways.

Knock only on the doors whose lights are on. If the light is off, this means that house is not participating in Halloween and children are not supposed to knock. Note: Some States have laws in place that forces any individual convicted of a crime who's not allowed to be around children, such as sex offenders, to keep their lights off and other restrictions during Halloween.

Instruct your children to NEVER go inside an unfamiliar house, for any reason – not even for candy.

All candy received must be eaten at home, unless the adult responsible is by your side at all times.

Make sure your child takes a flashlight, glow stick and whistle with them.
By reviewing these steps with your child, you are making them aware of the possible dangers out there. In the unlikely event that they might be exposed to some kind of danger you will make sure that they have been properly prepared!
Adapted from an article from the American Red Cross
Happy and SAFE Halloween Everybody!!

Vanessa Vidal, FPC
HomeWork Solutions, Inc.