Is it really necessary?
Imagine this...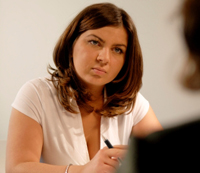 A lovely person is sitting in you mother's living room. Lately you and mom acknowledge that it would be better if mom had some help at home so she could continue to live at home, even as living there has become somewhat difficult. There are some essential tasks that mom simply cannot manage on her own.
This is hard for you, her daughter. She was always so completely capable, very independent, never asked for help from anyone. In fact, she was the one always helping you. Yet, here you are. She needs help at home, and you're interviewing a candidate for senior home care for mom.
The interview progresses, and the candidate seems engaged, experienced, eager to please. You share stories; mom seems to connect as well. All you can think about is "How will I really know who this person is, and can I can trust her with my mom's care?"
The candidate leaves, and later that day you recall how you felt uncomfortable asking about some aspects of the caregiver's profile. What is her driving record? Is there any history of criminal activity? Does she know CPR? Does she have a history of back problems?


Now what?
Most often, the information revealed in a formal application will not uncover anything unsavory. It is simply a way to make sure all relevant information gets shared, and all parties understand the scope of responsibilities and requirements. You may use a pre-formulated application, create one of your own, or use a combination. A formal application suggests that the questions are nothing personal; simply a way to get all the necessary queries out of the way.
If a candidate seems to resent having to fill out an application, be kind. Put yourself in her seat. If you encounter resistance, explain that this is a way to get the nitty gritty out of the way so you can focus on getting to know each other in the interview. And pay attention to that resistance: it can portend a lack of flexibility that may become important later.
A formal job application is also a way for employers to keep track of who they've interviewed, and any distinguishing characteristics that will help you make a choice when the time comes.
In addition to obvious information, some items in the application are:
Do you have a driver's license?
Are you certified in CPR?
Have you ever been arrested or convicted of a felony and/or a misdemeanor?
Have you ever been the subject of a substantiated complaint of child or sexual abuse?
Are you willing to take a T.B. test?
Describe the details of your last position in depth?
The application will help you begin to formulate a Work Agreement once you've decided to proceed with a particular candidate. You should also be prepared to conduct background screening and references should you want to move ahead with an applicant. The job application will collect the information that you need to order the background screening and proceed without further delays.


Other Resources: