Parents of younger school-aged children dread the summer holiday. Mom and Dad still need to go to work - what are their summer child care options?
As a mom of three I tried it all. Sequential summer day camps - a drop off and pick up nightmare! Family day care - hard to find when every other mom and dad are competing for limited spots! Sleep away camp - expensive! Home Alone? Not an option! For many summers we found that hiring a summer nanny was the perfect solution.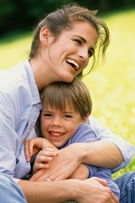 Our summer nannies were all young women on summer break from college. We did the live in and live out routes - they both work. Hosting a live in nanny for 8 - 10 weeks isn't nearly the concern that a full time live in presents. The loss of family privacy was temporary - it was almost like having a relative visit from out of town. We had friends who had success simply hiring a temporary nanny looking for work in the local job market.
In our experience, the summer nannies from out of town were the most enthusiastic. Living in the DC suburbs there were many interesting (and mostly free) things to do and the children loved the variety. Museums downtown, plantation tours, berry picking, visiting battlefields and the like entertained all. Best yet many days were spent hanging out with neighborhood and school friends at the pool, playing games, putting on plays, and all manner of unorganized activities that fostered creativity.
Here are some tips if you decide to go the summer nanny route:
Recruit early - most college students make summer work plans by mid April.
Plan to have your nanny start at least a week before summer vacation starts. This allows for acclimation, becoming familiar with each other, and learning family routines.
Insurance - if your summer nanny will be driving your family car, get her added to the policy!
Space concerns - the summer nanny needs a bit more room than your mother in-law visiting for the week. Make drawer and closet space, and room in the bath for her personal items.
Payroll - nanny tax obligations kick in if you pay $1800 or more to the summer nanny. That means almost everyone who goes this route becomes an employer and has to deal with this. Tip - outsource to HomeWork Solutions!
Reward a job well done! When it is time to part, these students truly appreciate a letter of reference, a small gift from the children (photo books work great), and a financial expression of appreciation.
Happy children, a stress free summer for mom and dad, and valued work experience for the student - a summer nanny is a win-win solution!
RESOURCES:
NannyNetwork.com - searchable directory of nanny placement agencies that can help you with recruitment.
NannyVerify.com - background checking any caregiver is a must.
4nannytaxes.com - free tax calculator to help with your budgeting, and services to handle the nanny taxes.