A recent case before the California Appeals Court for the Fourth Appellate District highlights the important responsibility an employer has to maintain accurate and contemporaneous time records for employee work and compensation.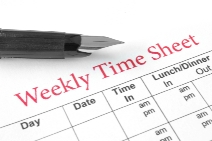 A former employee sued (and ultimately did not prevail) for back wages alleging unpaid overtime. The courts statement, however, is a cautionary note to employers. "If an employer fails to keep the required time records, an employee may prove an overtime claim by offering credible evidence that he worked but was not paid," the court said. It is very easy for workers to create their own "time card" with the release of free smart phone apps that use GPS to facilitate clock in and clock out. These include:
HomeWork Solutions strongly encourages clients to carefully track a household employee's hours worked. Many employers choose to multi-purpose a Nanny Log. A Nanny Log also facilitates communication between employer and employee and is an excellent employee management tool.

Best practices include:


A written work agreement that details compensation stated in hourly wage terms
Accurate, contemporaneous time tracking
Payroll records that itemize gross wages, total hours worked, net wages, deductions, and dates covered in the pay period
Employer's looking for a more automated time tracking solution can find free sources on the web. One such resource is OnTheClock.com, which offers free time tracking for employers with one or two employees.