We recently posted some advice on how to choose a quality nanny referral agency. We work with agency partners nationwide to help their clients and referred private service professionals alike understand the mechanics of household payroll. Nannies and Housekeepers USA is a well respected household staffing agency in Las Vegas NV. Their founder, Lexy Capp, shares some of her thoughts on her business' role in insuring quality nanny referrals to her clients.
~~~~~~~~~~~~~~~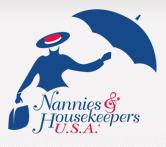 As a mother of three, I have learned over the years that there is nothing like the peace of mind that comes with hiring professional and reliable household help. In 2000, I opened the doors to Nannies & Housekeepers USA, the first nanny and household staffing employment agency in Nevada. My goal was to open an agency that offered the finest in home childcare with professional and experienced candidates serving the Las Vegas community. Each of our applicants undergo a rigorous interview process, background and drug screening, and we provide them with essential on going training through our Steps to Excellence workshops to help them thrive as a professional nanny. It is important to provide peace of mind to our clients knowing that they are only hiring the very best candidates.
In Europe, the art of being a nanny is highly regarded and commendable. When you say you are a nanny in Europe it is like having the prestige of saying you are a doctor in America. This is the level of respect I wanted to bring to the nanny profession in the USA.
Often times people hear nanny and they think that sounds expensive. However, with more families living apart and working all day it is becoming increasingly evident that parents need to explore all options and decide what is best for their family. Many families review the option of sending children to daycare or the benefits of hiring a professional nanny who can engage with the child in more of a one on one environment and provide focused attention. Above all, what makes an outstanding nanny is whether they take the time to go that extra mile and exceed your expectations. That is a philosophy that we try to impart on all of the nannies and household professionals we represent.
Remember there is nothing more important than family! Nannies & Housekeepers USA won the 2011 APNA Agency of the Year Award because of our high standards and applicant requirements.
~~~~~~~~~~~~~~~