Effective July 1, 2011, the IRS standard mileage reimbursement rate will increase to 55.5 cents per mile. The rate for January 1 - June 30 2011 is 51 cents per mile.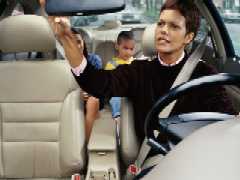 Nannies who use their personal vehicle for work purposes - driving children to school, appointments and activities for example - typically have their business use of their personal vehicle reimbursed at the IRS standard mileage reimbursement rate in effect at that time. We recommend that this be part of your nanny work agreement, linking to the current rate so nanny and family receive the adjustments as available. This rate is usually set on a calendar year basis. This is the 2nd time in the last decade that a mid-year increase has occured. This is a response to the dramatic increase in the cost of gasoline.
Nannies - how do your employer's reimburse the personal use of your vehicle. If you don't receive reimbursement, why not? Have you asked?
You can view the historical mileage reimbursement rates online at 4nannytaxes.com.
~~~~~~~~~~~~~~