Household employers in the District of Columbia will have new, important obligations to their household employees in 2015.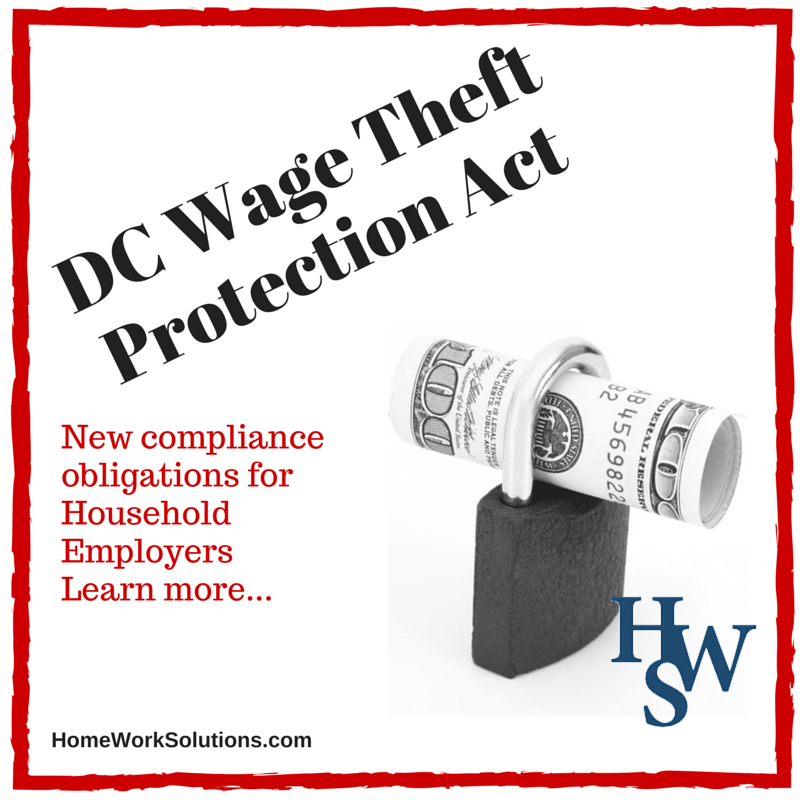 On September 19, 2014, DC Wage Theft Prevention Amendment Act of 2014 became law. DC joins a growing list of states and cities to enact legislation that expands worker protections and mandates increasing employer transparency in the workplace.
The Act requires household employers to provide every new employee a written pay rate notice effective February 26, 2015. Current employees must receive a notice within 90 days of the laws effective date. The notice must contain the following information:
The employer's name;
The employer's physical address, and a mailing address, if different;
The telephone number of the employer;
The employee's hourly rate of pay;
The employee's regular payday.
Going forward, household employers must provide a pay rate notice to all new employees, and must prepare amended notices to existing employees any time any of the above information is changed. Both employer and employee must sign and date the notice, and it is the employer's responsibility to retain copies of the signed notices as proof of compliance.
The Act is designed to benefit household employees, including nannies and senior caregivers. Most of these household employees are typically offered at a weekly pay rate, without regard to legally mandated hourly minimum wage and overtime requiements. The HWS hourly rate calculator can assist employers to convert weekly wage into an hourly amount, and help avoid mistakes in overtime calculations. As of July 1, 2014 the minimum hourly rate in DC is $9.50/hour.
HomeWork Solutions' staff is available for free telephone consultation, and we look forward to helping you with these calculations.
Resource:
DC Pay Rate Notice form (English)