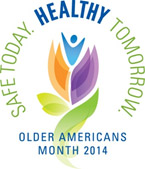 "Safe Today. Healthy Tomorrow."
Americans over the age of 60 are the single largest demographic group in the country, surpassing children 18 and younger for the first time on record. Today's seniors express a marked preference for aging in place, defined by the Center for Disease Control as "the ability to live in one's own home and community safely, independently, and comfortably, regardless of age, income, or ability level."
The US Department of Health and Human Services has declared May as Older Americans Month. This year's theme for Older Americans Month is "Safe Today. Healthy Tomorrow." The theme focuses on injury prevention and safety to encourage older adults to protect themselves and remain active and independent for as long as possible.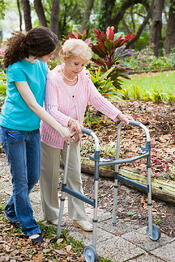 Unintentional injuries to this population result in at least 6 million medically treated injuries and more than 30,000 deaths every year. Many families turn to senior caregivers as a solution to the age in place, safely dilemma. Routinely younger family members are unavailable to monitor and supervise their aging loved one, as they are engaged with full time work and managing their own families. While privately hiring a senior caregiver is a wonderful solution to insure the safety of these older adults, privately hiring a caregiver comes with its own set of activities and complexities - namely the payroll and payroll tax responsibilites one assumes when they become a household employer.
HomeWork Solutions can help. Our household payroll experts work with families nationwide with household payroll tax compliance, tax reporting and remittance, workers' compensation insurance and more. Our families are busy enough, we help them simplify.