HomeWorks Solutions is a proud member and supporter of the International Nanny Association - the industry umbrella professional association promoting excellence in in-home care. We have attended every annual conference since 1993, and this year's educational line up for nannies and business members is the best we have ever seen.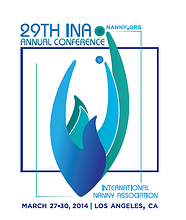 For nannies, Dr. Harvey Karp will present two workshops focused on infants and pre-schoolers. Dr. Karp is the hugely successful pediatrician and author of "Happiest Baby on the Block" and other titles. Dr. Jenn Berman will be delivering the keynote and an additional workshop. Dr. Berman is a licensed psychotherapist and author of several books including L.A.Times Best Seller SuperBaby: 12 Ways to Give Your Child a Head Start in the First 3 Years of Life (Sterling Publishing, 2009) and The A to Z Guide To Raising Happy Confident Kids (New World Library, April 2007).
Also for nannies will be workshops lead by Nanny Stella, Dr. Lindsay Heller (aka The Nanny Doctor), and others on a range of topics from newborn care, nutrition, appropriate professional boundaries, working with divorced/divorcing families and more. Conference attendance and workshop training by these experts makes a fabulous addition to a nanny's professional portfolio, and the families they work for today receive the immediate benefit of a better informed, energized nanny working with their children. Conference is held partly over a weekend to minimize disruptions to the nanny's and family's work schedules.
For INA business members there will be indepth workshops on marketing, authentic self-promotion, legal issues in domestic employment, sales training and more delivered by such well known experts as Keith Chambers, Jess Ponce, Bob King Esq. and more.
The International Nanny Association's 29th Annual Conference will be held March 27 - 30 in Los Angeles CA. The conference hotel is served by free airport shuttles, and conference fees are exceptionally affordable. A special EARLY BIRD conference rate is available through February 22 ($325), and new INA members attending their first conference receive a 50% conference discount rate ($212.50).
Professional nannies looking for a powerful educational event, and nanny placement agencies looking for new, fresh marketing and operations coaching to grow their business are encouraged to attend. HomeWork Solutions is a conference sponsor, and our staff looks forward to meeting you there. Did you know that many families help their nannies financially to make INA conference attendance possible?
About HomeWork Solutions
Our firm provides payroll and payroll tax compliance services to families nationwide. HomeWork Solutions partners with nannies and families by offering education and counsel regarding rights, responsibilities and obligations established via tax laws and regulations. For 20 years, HWS has been a stalwart advocate of nannies and their families through deep technical expertise in the dynamic tax laws related to domestic workers, and by helping all parties navigate the complexities of the "nanny taxes." We partner with nanny agencies nationwide to help educate their clients and assists clients and nannies with compensation decisions.