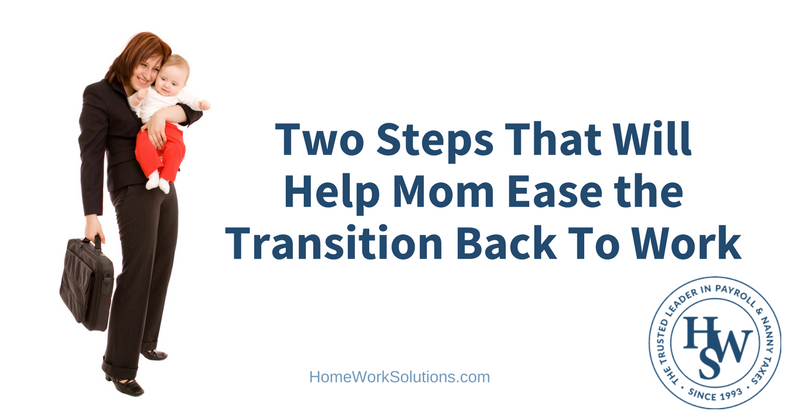 You've had a baby and your maternity leave has probably gone faster than you thought it would! The clock is ticking and soon, you'll have to start thinking about heading back to work. Many new moms worry about how the transition will go when you leave your baby with a nanny during the day. You may be struggling with how the transition will go, not just for you, but your baby. Leaving your baby with someone new for the first several times is definitely hard at first, but both you and your baby will adjust quickly if you follow some of these helpful steps.
Tip #1: Time is your friend
Leaving plenty of time to locate and hire your nanny is key to easing the stress that you may feel when planning to go back to work. Allow at least four to six weeks to find someone that feels like the right fit for your family. Set aside plenty of time to interview and perform extensive background checks on the candidates you're considering. If the process feels overwhelming, considering hiring a nanny agency to help you out. Once you have decided on someone to hire, develop a work agreement that outlines the nanny's duties, pay structure, and other important information regarding her employment. By having a solid work agreement in place, there is no room for assumptions on benefits, wages, taxes, or other specific duties. Nanny payroll will have to be set up - and outsourcing to nanny payroll expert will save you time and headaches.
Time #2: Have a trial period before you go back to work
If you're working with a new nanny, it's a great idea to schedule a trial period to make sure that this person works well with you and your baby. It also provides the baby the opportunity to get comfortable with the nanny, so separation won't be as hard once you leave for longer stretches of time. Try to have the nanny start at least a full week ahead, more if you can afford it, before you leave for work so she can get an idea of what your child's schedule and rhythms are. This will also allow you to gain confidence in her skills and could also give you time for yourself to run out to the grocery store by yourself, get your hair cut or nails done, or have coffee with a friend. Time with the nanny and time away from the nanny-baby duo all helps build YOUR confidence in your choice.
Throughout each step, keep the lines of communication open with your nanny. Encourage her to send text or email updates on how the baby is doing – maybe a photo of what they are doing together or information on how your baby was napping that day. This can help put your mind at ease and will also build trust between you and the nanny.
With a little bit of planning ahead, a continuous line of open communication, and confidence that your baby is getting the love and nurturing that he/she needs, the transition back to work can be a seamless process.